Atlantic Cup Newport Day 1

Meet Stephane he is the skipper of Bureau Veritas in the Atlantic Cup. I am racing on his boat for the inshore portion in Newport RI. We did 3 races today each about 12 miles per race with 14 Class 40's on the line. Being the only French person on the boat he is having to use his brain a lot to understand what we are all talking about. I think he is enjoying being at the helm and having the rest of us put the sails up and down!
The first race of the day was in fog for portions of it we did a great job at the corners and were able to pick off some boats at some of them. We did have one problem on a leeward drop where I grabbed the belly to pull the spinnaker down and when it refilled it tore (the spinnaker has worked hard). So after racing we went to the Quantum loft and did a repair. I was all set to do the repair myself but the service manager who opened the loft up (as he had a repair to do on the sevenstar class 40 spinnaker) decided to help out so it was a team effort. Thanks Joe at Quantum!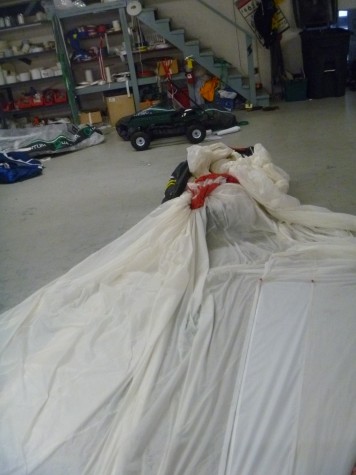 Unfortunately without the large kite for a long downwind we had to fly the medium kite in lighter air so instead of catching on the downwinds which we had been doing on previous legs we ended up holding position. The last race of the day they shortened course at 4:45pm, it didn't really make sense. We were disappointed as we were hoping to catch some boats on the upwind and the marina was upwind anyways so it would have been faster to have raced back then motor. There were about 5 boats all within a minute of each other.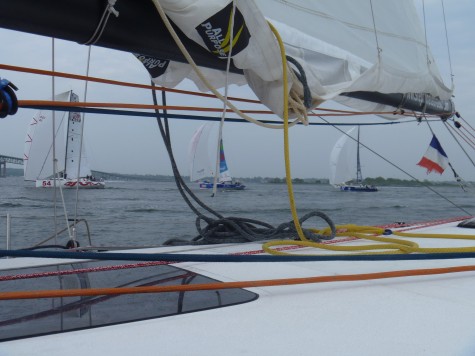 It has been good fun to be on the bow again with code 0's, solents, asyms all needing to go up and down on short courses. I have a great mastman who has rescued me a few times as I have been lifted off the deck when trying to douse the massive spinnakers between the two of us! My PFD saved my ribs from a good bruising when the spinnaker refilled in a douse and sent me slamming against the rig. I am sure I will be sore tomorrow morning.
So results today were 3, 6, 8. Tomorrow we have two races stay tuned!
One Response to "Atlantic Cup Newport Day 1"
Great pictures Ashley Love Mum