Archive for May, 2011
Overnight the snow melted from the track leaving some large icy patches – I slipped on one on my morning run. The mail ship came in today so everyone on base hoped for packages.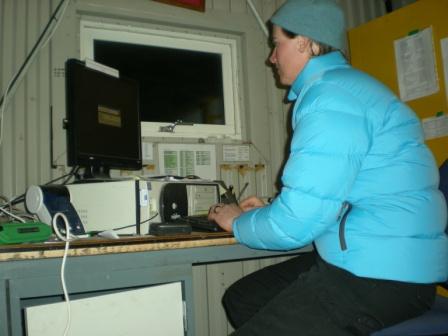 I got some exciting packages and am now wearing my new waterproof down Macpac jacket which is a lovely shade of blue. The waterproof trousers were a bit large on me so I have sold them on to Rob. Some parts came in for my mid winter present and a few postcards from friends. A great magazine and Kindle cover and a package I sent out in November was returned due to the wrong address!
I spent the day continuing with indent and we had early dinner as Sue left on one of the fishing vessels as an observer. The observer who was aboard came off and will spend two weeks on station before heading back to Stanley. As we had freshies come in I made avacado, shrimp, mango, cliantro wraps (lettuce leaves), followed by lemon chicken with rice, peppers, courgettes and carrot ribbons and fruit salad and lemon tarts for dessert.
We had some night boating as the fishing vessel arrived in the cove at 7:45pm. We had to break out of the berth through thick ice to get to the vessel. While Kieron did the customs paperwork we sat alongside and I ended up talking to a group of Kiwi fisherman one of whom gave me a book to read about a family living in a remote area of NZ. Very nice group of guys I think Sue will have a good 7 weeks aboard. I am on earlies tomorrow so must get in my bunk as I need to be up in 6.5 hours!