Last Dive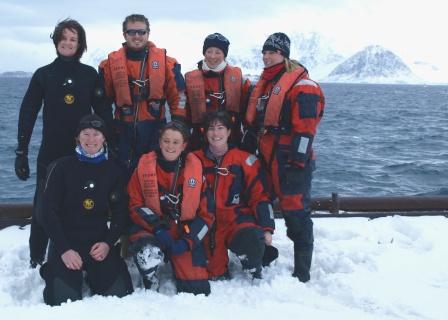 This is a picture of the remaining summer Bonner Team. Mel and myself in the dive suits, JJ the lone male, then Sian and Amber from Edinburgh Uni doing PHD's, Terri the marine assistant (going into her second winter down here) and Colette the new marine biologist taking over from Mel.
Today was my last dive down south. It was blowing in the morning from the south and although it was only 20 knots it was bouncing up against the wharf so it wasn't prudent to launch the boat. Luckily after 3:30 it started to abate so we went out for what is most likely Mel and I's last dive down south with base commander John Withers driving the boat and JJ dive officer supervising.
We went for a "biosurvey dive" as we are not allowed to recreationally dive down here. With a large low pressure sitting over us our no deco time at 24m was only 20 minutes but it was an amazing dive.
We dropped in at Anchorage on the wall – the visibility was stunning and the wall is full of life. We came across a pretty denuded gulley with a submerged iceberg which was really cool.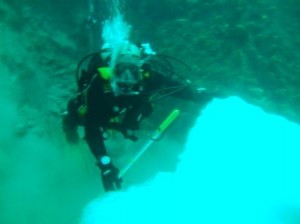 Then at 19m we found the sponge that everyone talks about. It is so large you can stick your head inside of it.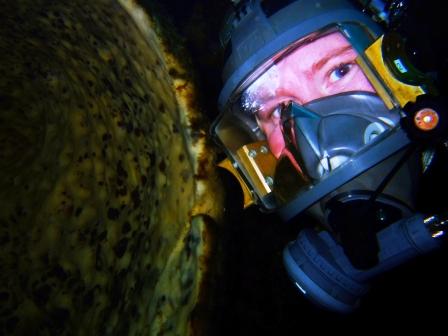 When we got to our safety stop at 6m there was a penguin who came swimming around us underwater. It was very curious and had a good look at Mel. Although a short dive I did get one very cold finger however, not cold enough to go looking for the Humpbacks that went swimming by while we were underwater.
So basically a pretty epic dive to finish on!
2 Responses to "Last Dive"
The best info ever, great pics of you all and it looks so much safer than half way up a mountain1 love mum

The wall at Anchorage is stunning. The visibility was unlimited. The wall drops down to 300m and animal and plant life hangs off. Sponges, corals, anemones etc. very very beautiful. Also I have now got enough science dives to get my Advanced European Science Diver Licence. Hope you continue to have loads of fun in NZ.