Big sky and lots of trees!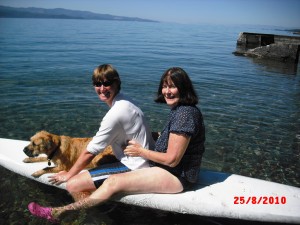 My mother and I with a neighbourhood dog! on a paddleboard on Flathead lake MT
The two weeks since I got back from Hawaii have been crazy catching up with work and friends and getting ready to leave again for 16 months to South Georgia. On tuesday morning after only 2 hours sleep I jumped on the 4am airporter and flew to Kalispall Montana to surprise my Dad who is travelling with my mum and their friends for his birthday. So I have 4 days hanging out in Glacier National Park to get my fill of trees and spend time with the family. Followed by 3 days in Colorado visiting my cousins and Uncle. Time to do the rounds of all the relatives as I won't be seeing them till 2012! It really is a very beautiful place here the water is crystal clear and the lake water is warm enough for a swim.