End of the regatta start of training
Yesterday we raced the sonars and ended up only finishing two round robins for the event with no time for finals or petite finals. We were given the opportunity to come first when one of the other teams beat the Brazilians who led us by one point. All we had to do was beat the Brazilians..
We gave them a penalty in the pre start and held them off till the last 1/2 of the last upwind when they got past us and were able to clear their penalty. We had some exciting matchs with some close finishes the leads changed due to large shifts on the courses. The fog line was about a quarter mile away so generally when the wind was shifting left you would feel cold air from the lake and when it shifted right it was warm air.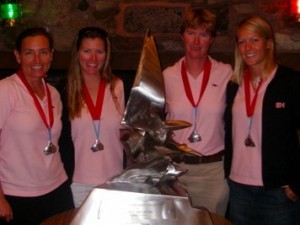 So we ended up in second place for the regatta. Now onto training with the US Olympic Team on the new Elliott 6m's which are being launched for the first time in the US. There is an amazing line up of coaches – Vince Brun and Dave Perry with all their experience and great coaching abilities.
See Team Brickhouse website for Kristen Lane (the skipper I sailed with) write up on the event.