All day in the chippy shop
Yesterday was a bit of a rush in the chippy shop to finish the present for the wardroom of the York. I thought I had another day but the Clyde which is delivering the present came back to KEP a day earlier than expected. I literally put a coat of oil on 10 minutes before the Clyde arrived at anchor off Hope Point having not had the time to sand it to 120 grit so unfortunately there are sanding swirls in the finish. Oh well it is the thought that counts.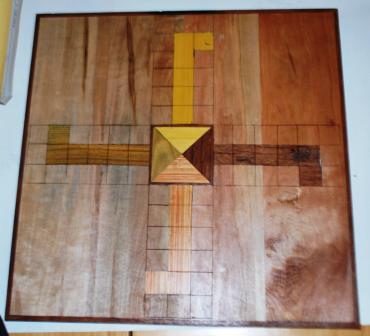 The board just after being oiled with Danish Oil. The main board was made by laminating four pieces of eucalyptus from some old beds then I framed it with some mohogony from the fishing vessel wrecks. Next I routered out the center and four L shaped areas and inlaid rosewood, pequio, Lignum vitea and mahogony. The squares I made using a chisel and after glueing the pieces in I planed the wood flat and sanded. All sounds simple however, it did take every evening this week and all day yesterday. I won't be making another of those soon!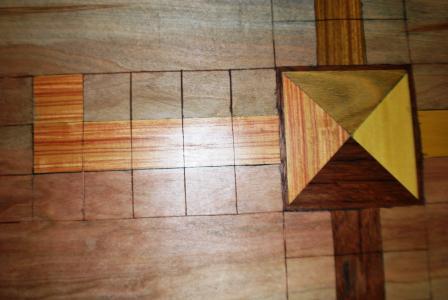 Up close

Wrapped in a chart from British Colombia not much use down here!!
While I was waiting for glue to set I made a trifle as we had Captain Kris's birthday BBQ during which it started to rain and snow. Matt Mech made some very nice steaks, lamb chops, chicken and chorzo sausages on the grill and hung the parachute up in the garage. There were plenty of cakes as well so Saturday night meal will be an ecclectic mix of leftovers!! I managed to pull some wood out of the drum that Matt was burning he didn't realise I was saving for a woodwork project I want to do after midwinter a little bit charred but I think I can still use some of it – guess I should have put a sign on it 🙂
2 Responses to "All day in the chippy shop"
My Ashley, you have progressed from the time I made you make apple pies as a "sorry" for burning the barn. Looks fab love mumxx

I didn't burn the barn!! It was the guy who owned it who was making a flame thrower with WD40 and matches I did tell him it was a bad idea… 🙂 It was blackberry and apple pies. 🙂