Boating, Diving and Skiing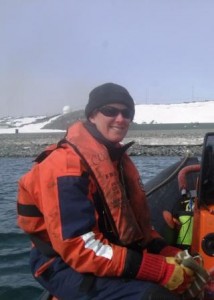 I went out diving in the afternoon with Terri to change out some loggers (science project) at Cheshire. It was only a 20 minute dive the sealife was amazing lots of sea cucumbers, fans, sea stars, brachioalpods. Every pieces of space is covered in flora and fauna. My hands were a lot warmer this dive however, I did manage to lose one of the fins which upset the diving officer a tad and made me feel like a little bit of a fool.
Clive, Claire and I took the skidoos up to Vals to go skiing and did a few hours of runs up and down the little slope. After all the snow yesterday there was a foot or so of powder. Claire had done a week of skiing in France and was pretty good the biggest problem was the light was really flat. The light on the mountain range on the peninsula was beautiful across the water and the light reflected pink on the icebergs. Yet another late night there really not enough hours in the day here.