Happy Easter – what a week!
Lots to catch up on 🙂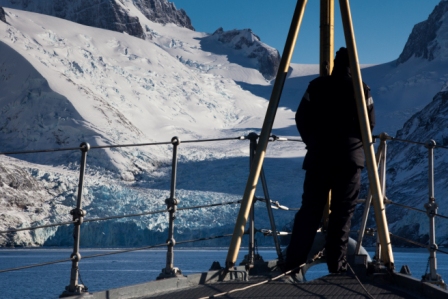 Monday I was a grease monkey again all day working on the outboard engine and its 100 hour service. Due to lots of corrosion I had to drill, and helicoil out some bolts which had become part of the aluminum casing.
Tuesday the Royal Navy arrived for two days of shore leave so Matt boat and the whole base were involved in ferrying 93 people between the shore and the warship. First lot off were the EOD or bomb disposal team which spent 5 days in Larsen House and each day they went out to various pieces of unexploded ordinance to blow it up in control explosions. There were quite a few large bangs which particularily excited the guys on base! The flares that we had that were many many years out of date went off with a particularily large bang along with a still live harpoon gun from the whaling station at Grytviken.
Wednesday was a crazy day with two fishing boats arriving for inspection, another 90 people to transfer ashore and a ship arriving at our jetty there were ships all over the place and we joked about needing a traffic scheme at Hope Point. We also took the bomb disposal team over to the Barff Peninsula. We were lucky as the weather held out for us a little cold but not too windy and no rain or snow. In the evening after a night pick up from one of the fishing vessels we had a bomb disposal demonstration. Tommy set up the plastic explosives and I was allowed to detonate it from a safe distance away.
Thursday morning the girls on base (except Katie) were transferred aboard the warship for a "cruise'. It was an amazing experience. We had 2 and half days aboard staying in a petty officers 6 bed dorm and dined the first night with the Captain. The wardroom were so inviting and hosted us the whole time with many tours of different areas of the ship – engine room, operations room etc. We were invited up to the bridge for weighing anchor at Hope Point and anchoring in Gould Harbor where we spent the night and watched the sunrise.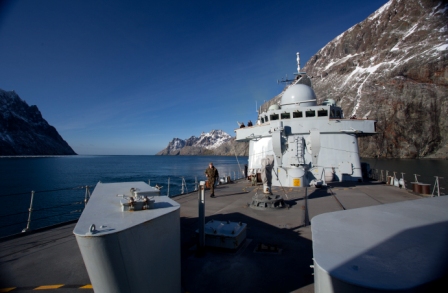 Drygalski Fjord
It was a very interesting experience watching the 10 people on the bridge of a warship and their interactions. I remarked to the Captain at dinner about the skills required to be officer of the watch and conned the vessel to anchor. He replied that you get use to it and it is easy inviting me to do anchor when we came back to KEP. So there I was on the bridge conning a warship into anchor at Hope Point on Friday! Something that has happened only a couple times in naval history according to Simon. It is indeed hard to take the verbal inputs of where we are etc and translate that into orders for the helmsman, throttleman and anchoring team. It is something that I normally internalise and reaction to myself with subtle changes in my throttle and buckets combined with helm movements and I don't even really think about what I am doing it is just a natural reaction.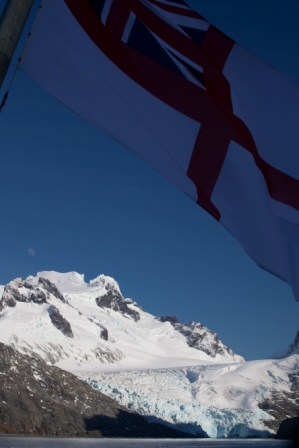 I will write more today however, must rush off to help with some lines on a ship. HAPPY EASTER everyone.
3 Responses to "Happy Easter – what a week!"
Happy Easter Ashley
Love your blog posts; keep up the good work.

Charlie perrin April 24th, 2011 at 7:33 am

were impressed but we we
knew you could do it big day at church today with the twins didnt go the full course but we were close

love mom and dad

Charlie perrin April 24th, 2011 at 7:39 am

Such a special treat Ashley. The girls loved your Easter gifts, pics to come. HAPPY DAY, my favourite daughter, much love from Bermuda Mumxxx