Hauling and night boating
Today started off slowly with a bunch of emails regarding orders to come in at first call (that is when the BAS ship comes in with our supplies for the year) and also some risk assessments to check over (pretty boring stuff). Then the fun started 🙂 Sam, Tommy and I took off with the new SAR sledge to test the adjustments that I had made as well as see if crossing the hauling bars helps with steerage and control. So two hours of energetic man hauling along the track and up and down Gull Lake track taught us quite a bit. We loaded the pulk with some books to leave at the museum and then some heavy harpoon heads to pull back to base.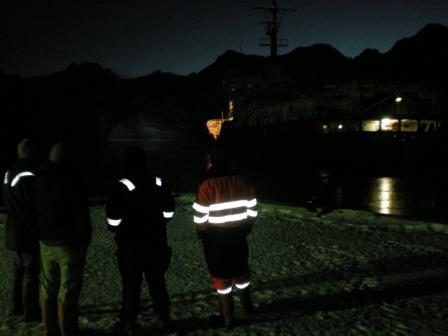 This evening we had a little bit of night boating action where Tommy was thrown in at the deep end as cox. He did a wonderful job despite anchoring the jet boat to a kelp bed – which to be honest was hard to see in the dark covered in sea ice. A little bit later after knifing the kelp (cold water to put your arm into!) and pulling some large strands out of the jet unit we were out of there and on our way to pick Ali up off the ship. Matt Boat has stayed aboard to do the trawls for Katie as she is still out on the San Aspiring (fishing vessel).
One Response to "Hauling and night boating"
Mum and Dad July 28th, 2011 at 6:38 am

taking a break from the sunny garden to look at your snow, Love mum