Krill Boating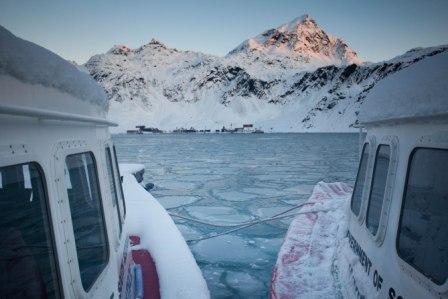 The cold snap has created a lot of pancake ice in the cove and snow on the jet boats. As Pipit had passed the 1000 hour mark we moved her to the inside and will use Prion until we get the parts in to do a full 1000 hour service on the engines. Matt has rebuilt two engine pre heaters on Pipit so they are likely to go on Prion soon.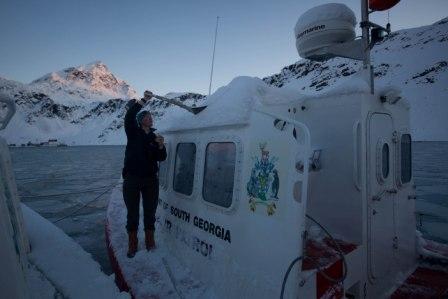 As Sam (who took these pictures) mentioned this is the Antarctic version of defrosting ones car! There was so much snow on the boat she was quite low in the water. Also you get blinded by the snow when it flies off the roof into your face at the outside helm position.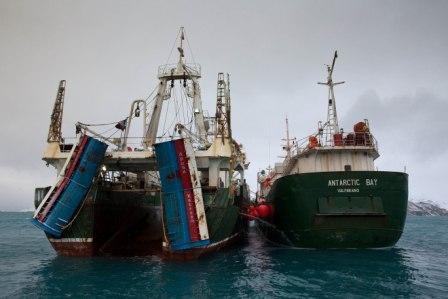 The Antarctic Bay is being towed by the Betanzos back to the Falklands. Andy who was on the boat as the observer is now back on base with us enjoying cakes! Apparently they didn't make puddings on the Antarctic Bay and that is the only reason he missed us 🙂

The Shanghi Reefer hadn't been to South Georgia before so the inspection took longer than usual but the transhipment of krill from the Fucknu Maru (spelling) was very quick and they were motoring out of the bay by midnight. The reefer was well covered in ice from sea spray. We did two trips one to take Andy and Robert out and at the same time did a bit of training towards the Nordenskol Glacier with Ali. The nunataks on the glacier were stunning in the sun light. We were back out as the sunset to pick them back up.
Comments Off

on Krill Boating