Krill boats and modifications
Another blue sky day on South Georgia. We had two Krill boats requiring inspection today and as Matt had not been on one yet I drove the jetboat while he went aboard as a witness for the first one. The first was a converted container ship and the second a very old i.e. 40 years old Japanese trawler. All was fine until the starboard engine overheated as the water intake got jammed with ice even though it was taking water from the jet units! Once we cleared that we were good to go. The ice covered the surface all the way out to Hope Point as it has been cold recently. These inspections basically tied up base with boating all day so boat school didn't happen.
In between boat trips I made modifications to our stretcher unit as tomorrow we are doing a SAR test instead of doc school to see how it goes manhauling. In the test we found the stretcher tends to take on a lot of snow so it really needs a cover which I will make.

Tubular webbing sewn on to handles with jubilee clips to stop them sliding allowing attachment to hauling harness.
Also it would be nice to be able to hook the handles to a hauling harness and when the handles are not being used it would be good to fold them back onto the stretcher without squashing the patient.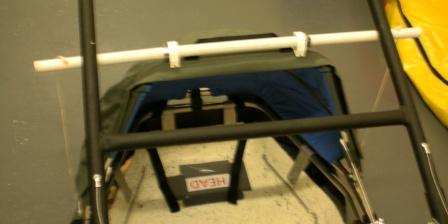 Piece of pipe and pipe clips riveted to hood stopping the handles from dropping down.


After seeing the pancake ice sliding around over the top of the optic cable yesterday at high water I went out with some water hose pipe taping and cable tying it on just as a bit of chafe resistance until it can covered with the JCB.

As I was on earlies I made a very simple slow cooked leg of lamb with vegetables and mashed potatoe. One of the krill vessels gave us some fresh fruit including some peaches. Dessert was peach shortcake with whipped cream – a little taste of summer here in the snow! What we all found ironic was this was the first time Tommy had eaten a peach – on an island in the middle of the southern ocean!