Sam's bakery, reefers and leps
Between trips out to the two reefers – Shanghai Reefer and Frio Olympic I did a gym session, a run and a bike session. On the run I ran past a small lepoard seal hauled out on the beach which was well photographed by Matt, Sam and Ali.


Tommy drove the jet boat and did a grand job.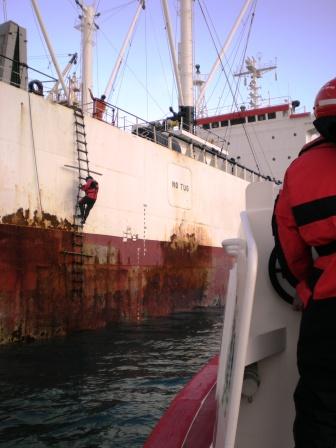 This is Robert on the pilot ladder of the reefer waiting for a pick up.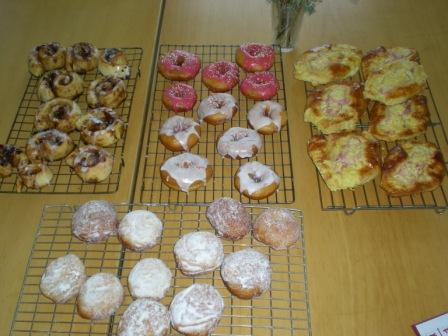 Meanwhile Sam and Matt Mech cooked up a storm. With Sam opening up the KEP bakery I had to keep going to do exercise to burn off the donuts and bacon slices. I have set up a hiking bench for simulating hiking out on a dinghy which provides a great ab workout and a block hanging off the I beam with a rope and weight to simulate pulling a sail up the mast.
Tomorrow there is probably going to be two ships in and Pat and Sarah return to the island after their 4 month holidays. The weekends don't seem to have been uninterrupted for quite a while which is good for South Georgia with the fishing licenses provide a large portion of the government budget.
On the topic of the outside world I have to brag a little and congratulate. My little (24 year old) brother competing in his first solo race crossed the line first and decimated the competition on corrected time after an 80+mile race from Lymington in the UK to St Peter Port in the Channel Islands. He is competing in a week long singlehanded regatta. Also another win by the Hubbards (friends and clients of mine) with whom I have raced across the Atlantic and Newport Bermuda with. They were competing in the Transatlantic Race from Newport to the Lizard and corrected out first in class. I wish I had been able to do the race with them.