Archive for January, 2011
This morning the cloud cover was really low however, we still decided to head out to 2320 which is a mountain at the end of Glacier Col. Sam, Rob, Andy and myself left at 11am and didn't get back to base till 7:30pm!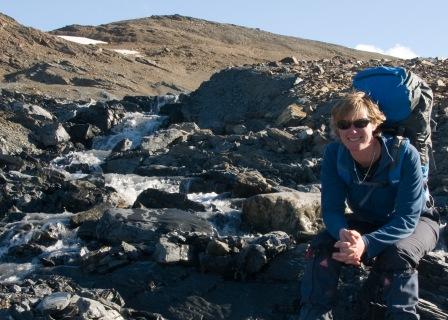 At Glacier Col
It was a long but fun day including glaciers, summits, waterfalls, flood plains and a walk back along the beach with the surf crashing on the shoreline.
We went up Glacier Col the normal way past Gull Lake and had lunch at the top. The snow has ablated dramatically. After lunch despite the low cloud cover we decided to continue on up to the summit of 2320.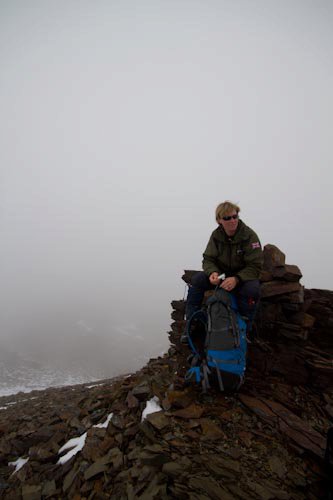 Picture by Sam
We decided not to go home the same way so took a valley down towards the Hamburg lakes. It turned into a steep sided gorge at some points with a beautiful waterfall cascading down to the lake. It took a while to pick our way down the valley to the side of the lake. Where we found some nice smooth rocks to skip across the still water of the lake. I managed to pick up a glacier pole here made from brass which will make my second wind chime out of.
We continued along the side of the lake and onto a flat flood plain which after about an hours walk we got to Penguin River and the tussock along the shore line where there were a load of elephant seals, furries and King Penguins.
The swell has been coming in all day and the waves on the shore were pretty large giving off a large amount of spray especially where it hit the wrecks at the enterance to the Morraine Fjord. The beach was covered in whale bones and beautiful large smooth stones.
The Bremen a cruise ship was in however, Hugh who had run up to Glacier Col and back had made some brownies. The museum folk had us in for some tea and brownie at Grytviken before heading back to base for some bangers and mash for dinner and a movie with Adam Sandler. Now it is off to bed.