Archive for February, 2011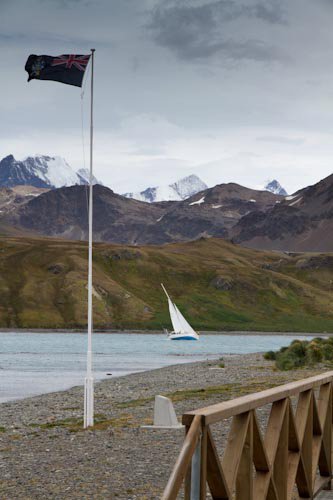 Picture by Alastair Wilson
Alaska Eagle came back in on Saturday night so I promised to take them for a walk on Sunday. With the
forecast looking bad we went for the nature tour of Maiviken beaches vs the peaks.
We were over taken by Rob doing the half marathon with Hugh as his trainer. Rob got a great time of 2 hours 3 minutes. Shame he was sick on the actual day as it would have been a fight to the finish with Theis.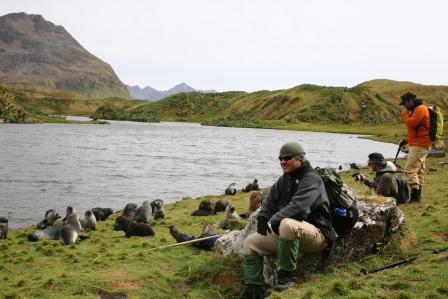 Pictures by Brad Avery
Down at Evans Lake they enjoyed being surrounded by curious fur seal pups. Then onto the gentoo colony which has abandoned the hills where they nested for the area around the lakes a little bit closer to the sea. Next stop was the hillock over the lake to see if the sooty albatrosses were still in residence unfortunately they were not. So down to Tortula to check in on the beach which has really emptied out in the last month. The penguins are now able to wonder around the beaches without falling over fur seals! From there we hiked over the chest high tussock to Burnet before heading back completing the circle to the hut.
At the hut I fired up the primus and they all enjoyed a cuppa just as the rain started. We came back via the waterfall just before Deadmans hiking up it to the plateau and then descending back into Bore Valley the Grytviken side of Deadmans as it was starting to blow horizontal rain. By the time we were back at the boat we were all wet! It was gusting 60 knots and the sea was whipped up with spindrift the yachts were heeling over in the wind. On Sunday night it got up to 80 knots with averages of 45 knots for long periods.
On base we tucked into an unhealthy fry up and watched the movie the Kings Speech which was very good.
Click here for Alaska Eagles report