Archive for April, 2011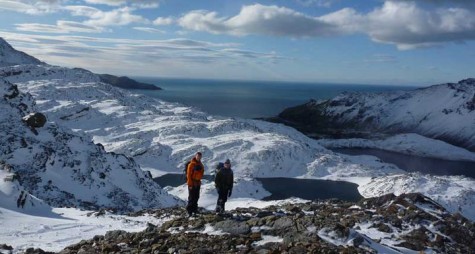 Tommy and myself on the ridge before Boulder Pass
Finally the temperature has dropped and the rain has turned to a mix of snow and sleet. The snow has been sticking at sea level today.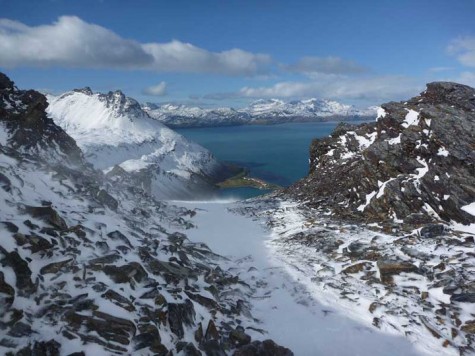 Beautiful picture of base by Tommy from the plateau below Hodges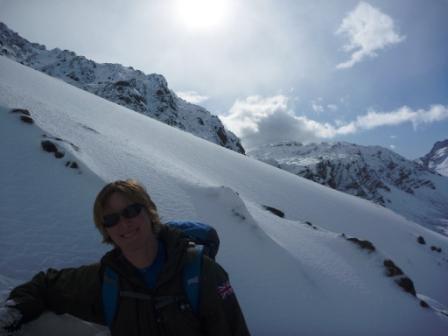 Halfway up the gulley to Orca by Tommy
Yesterday Tommy and I were sometimes up to our waist on the slopes of Hodges beautiful white fluffy stuff!
Today it has been snowing all day and fluctuating from 5 knots to 70 knots with wind shifts of up to 100 degrees. Outside my office window the cove has been whipped up to a frenzy of white water and every now and again the sea is flung against the window. Matt boat mentioned that he hoped they had nailed the roof down well 🙂
So taking the opportunity as the weather is so poor I did a chart session this afternoon with 6 people as part of their theory boat training. Subject was plotting a position on a chart and then giving a position of something on the chart. We used our plots from the glacier ice front surveys so we could also measure the distance of retreat of the ice fronts on the Neumayer glacier.
Tommy is salivating at the idea of snow boarding and is trying to persuade me to take him up to Hodges Bowl tomorrow. Meanwhile I have a headache and am heading for my bunk! Tomorrow we start Race Antarctica.