Archive for October, 2012
We have descended quickly from the scrub and juniper and today walked through the rhododendrum forests and pine trees to Namache. Yesterday after everyone awoke at base camp after 14 hours of sleep we hit the trail hard.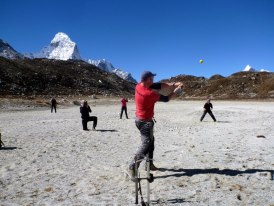 First of all cricket had to be played at 5100m at the foot of island peak and Lhotse face using an ice axe as a bat. Picture of Gerry by Jon Gupta. I sat on a boulder on the outskirts of the field taking video and watching the reactions of the porters and other trekkers. Many of the porters put down their loads and watched. Many of the teams coming up the hill couldn't believe our lot were running around at that altitude.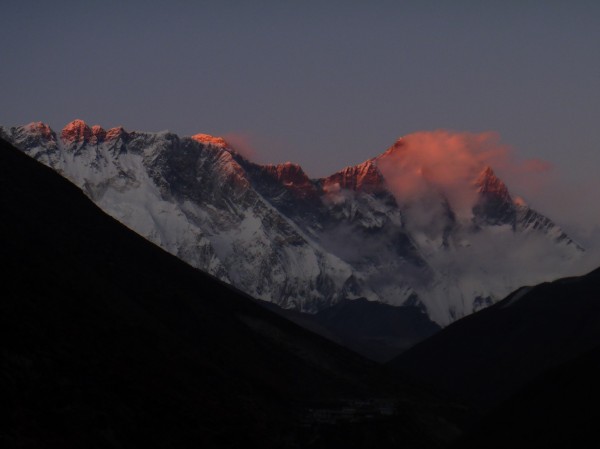 We arrived in Pangboche as the sun fell and looking back it looked like Everest was on fire it was stunning.
It was Jason's birthday so I had ordered a cake to be delivered to Sonam lodge. It was interesting to say the least – chocolate with apples and cinnamon in the middle. I had asked for an outline of the mountains but instead he got lots of pretty roses!!!
This morning we again moved quickly down the valley stopping for tea at Tengbouche and had a few minutes to go in the monastry then on to Tashi (a very nice nepalese woman) for lunch. I purchased a yak bell from her to put on the outside of my house.
It is very hard to stay disappointed in yourself for not making the summit with the views on the trek out from Island Peak. I will be back to this country for sure it is so very stunning. Every turn in the path is another photo opportunity. For a good hour long point on the trail I was the only person with a porter going up valley every now and again. Four kids came running out of their house yelling Namaste at me so I stopped and they asked me how are you? the extent of their English. I took a photo of them and showed it to them on the screen which they loved. I also showed them a picture taken of Mum, Dad, Daniel and I at a wedding in Tahoe and said my mother, my father, my brother. They giggled.
It was wonderful to just listen to the river in the gorge below and the wind in the trees. Claire and I on the last little bit walked together and came across the most beautiful bird that looks sort of like a peacock.
Tomorrow we will bypass Monjo and stay closer to Lukla we were attempting to change our flights out till the 1st but that isn't going to happen which I am thankful for. Another day in the mountains and one less day in Katmandu.