Lifelines and jackstays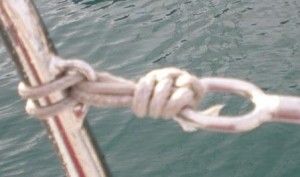 ORC Regs tell you about the length of the spectra lashing shown above in the picture and about how slack you can have the lifelines. However, one more thing that I like to do is to not trust the welds of the rings on the pushpit/pulpits and instead I take the spectra around the main tubing as well using the welded loop merely as a way of holding the lifelines at the right height.
3.14.2

Lifelines required in Special Regulations shall be "taut".

     

| | |
| --- | --- |
| a) | As a guide, when a deflecting force of 50 N (5.1 kgf, 11.2 lbf) is applied to a lifeline midway between supports, the lifeline should not deflect more than 50 mm. |
3.14.6
Lifeline Minimum Diameters, Required Materials, Specifications

     

| | |
| --- | --- |
| a) | All lifelines shall be stranded stainless steel wire of minimum diameter in table 8 below. Lifelines shall be uncoated and used without close-fitting sleeving. |

     

Notwithstanding 3.14.6 (a), temporary sleeving may be fitted provided it is regularly removed for inspection

     

| | |
| --- | --- |
| b) | Grade 316 stainless wire is recommended. |

     

| | |
| --- | --- |
| c) | A taut lanyard of synthetic rope may be used to secure lifelines provided the gap it closes does not exceed 100 mm (4 in |

I don't know if you can tell but this jackstay is twisted – on purpose. The worst thing to hear when trying to sleep is the rattling of the jackstay on the deck. Putting the twists in stops this from happening and also makes it easier to pick up when trying to clip on. See below for some more good information – pay attention to a(i) in my mind the steering pedastals and the pulpit don't comply with this rule. Better to be safe than sorry so I install padeyes spefically for the jackstay.
4.04
Jackstays, Clipping Points and Static Safety Lines

4.04.1

The following shall be provided:

     

     

shall be provided-

     

| | | |
| --- | --- | --- |
|      |   i | attached to through-bolted or welded deck plates or other suitable and strong anchorage fitted on deck, port and starboard of the yacht's centre line to provide secure attachments for safety harness:- |

     

| | | |
| --- | --- | --- |
|      |  ii | comprising stainless steel 1 x 19 wire of minimum diameter 5 mm (3/16 in), or webbing of equivalent strength; |

     

US SAILING prescribes that jackstays may be of configurations other than 1 X 19.

     

| | | |
| --- | --- | --- |
|      | iii | which, when made from stainless steel wire shall be uncoated and used without any sleeving; |

     

| | | |
| --- | --- | --- |
|      |  iv | 20kN (2,040 kgf or 4,500 lbf) min breaking strain webbing is recommended; |