Maintenance Day

This morning dawned flat calm and clear and seeing as the high tide was at a sensible time we pulled Pipit out of the water for her jet unit service and a bunch of other small jobs. However, we haven't even started them as Prion had some issues that needed to be resolved first. Matt had to redo the raw water strainer join which was leaking and while doing that found that the raw water pump is in need of a rebuild. Meantime Tommy fixed the bilge alarm and due to fixing that solved the AIS GPS conflict inadvertantly!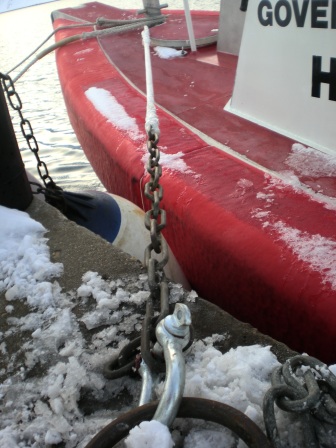 As the spring lines at the dock had some major wear on the shackles I ended up making new ones.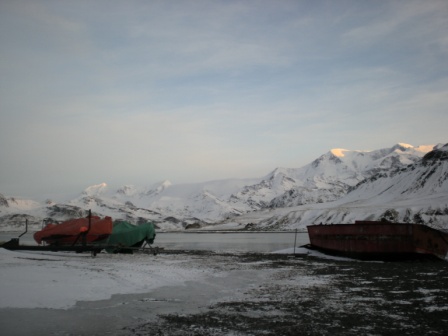 We covered the RIBs which we had to kick out of the shed to fit the jet boat in – as you can see it was a clear, sunny day. At lunch time I put a packed lunch in my bag and headed to the hydro where I sat on the shore and surveyed the beautiful calm cove.
Tomorrow it will be a day of servicing the jet units and pulling apart the liner of the boat to install a new AIS antennae. In the meantime it is time to start a new book I am trying to decide between The Joy Luck Club or You can't go home again…
Meanwhile my little brother is doing his first Fastnet Race. He is in the doublehanded division and they should round the rock tonight. Unfortunately it looks like light winds and he is going 4 knots but the forecast is for winds from behind when they round so hopefully it will be enough wind to make way against any swell. The boat he is on does not perform to well to its rating going upwind in light air so he is not doing well in the rankings however, with hopefully 240 miles of downwind reaching conditions he might be able to make up a few positions. The boat he is on is an unfortunate colour (pink) so we are all going to give him some hassle about that – shame he wasn't able to take our boat Santana 🙁
4 Responses to "Maintenance Day"
Hi

I assume your brother was not fished out of the sea!
Your mum worries about an avalance donkeys years ago & another member of the family is on the notorious Fastnet race……..now that race is famous for bad conditions, capsizes, rescues, etc. A very chequered history!!

Incidently I have seen the Fasnet rock, a lighthouse stuck out of the sea on it's pinnacle of rock – mind I was on dry land; no I do not "do" getting wet!

Notorious…..maybe I should have said "infamous"!

🙂

It is indeed a famous race and a great one too with lots of tidal gates along the south coast before normally a slow beat to the rock and then a fast ride back to Plymouth. Unfortunate deal for Rambler losing their keel but all worked out well in the end – a result of lessons learnt from past ocean races with regards to safety equipment, experience level of the crews and a great job by the rescue services. What is quite ironic is the helicopters used to pick them up were built by the company that the owner of the boat owns.

I did my first one when I was 16 on a slow but solid boat now its Myles's turn. He took to doublehanding last year after our Round Britain and Ireland Race together. This morning he is around the rock but is going 0 knots looks like it was a long night. The tracker hasn't reported his position for the last 6 hours so hopefully he is through the calm and on his way back from the rock at 6 + knots.

Mum and Dad August 17th, 2011 at 5:23 pm

Wish we could read the tracker as well as you Ashley x mum and dad