Rainy and no wind….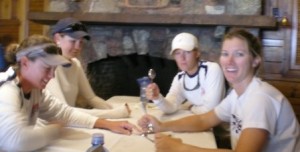 Waiting for wind
We are all waiting for wind here in Sheboygan – we had wind and blue skies for the clinic days but now clouds and a wind lind that is not filling into the race area. People are catching up on work on their computers and playing cards. There is a live webcam of the race course when we do start at http://syc.webhop.net:8080 for the first round robin we are hull 4 and the second we will be hull 5.
———
We were sent out for an hour and half with no wind and large swell ended up anchoring and getting suffocated by the fumes from the two strokes. Then some sea fog came in and we were towed in for lunch and more playing of spoons.
——-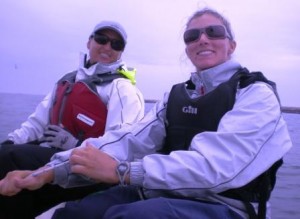 Finally we went out and sailed further south down the coast and there was some wind. At the start of the first flight the rain came in and it stayed all afternoon. Right now it is 5:45pm and pouring with rain. We got all out races done and had a bye the last flight so we came on home. The rest of the boats are out there two races behind us – after our flight racing was abandoned but everyone was to stay on the water. There were large wind shifts happening out there. So at the end of the 1st round robin we won 5 and lost 1 race.



The fleet finishing off racing in the rain and low lying sea fog.