Relaxing Sunday with some golf!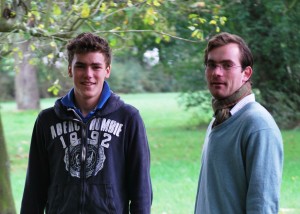 Sunday was a relaxing day thankfully after a 2:30am bedtime. Gus took me to his Grandpa's farm which has been in the family for over 150 years. Large tracks of land around the farm are leased to farmers and there are five beautiful old brick houses around a courtyard. We visited a while with his grandfather and youngest brother it is good to see Gus so comfortable in his favorite surroundings.
Yet another tasty meal cooked by Gus's mother of salad, meat and potatoes with fruit and ice cream. Northern French families typically have 4 to 6 children and Madam Motte somehow manages to look beautifully young having brought up five boys. Now all but one have left the nest she is doing her MBA!


An afternoon with a first for me – attempting to play golf at the driving range. My first attempts were feeble I totally missed the ball a multitude of times. Then I would connect with the ball and it would either end up flying high and left or rolling feebly several feet away. The way you are meant to hold the club was not that comfortable and I ended up looking like a baseball player according to Gus.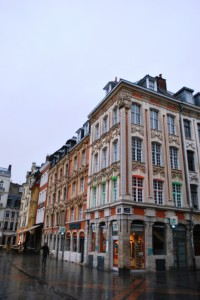 With a few hours to spare I had a tour of Lille city center in the rain, the high school, Gus's old house before getting onto the Eurostar for my quick trip back to London.