All Quiet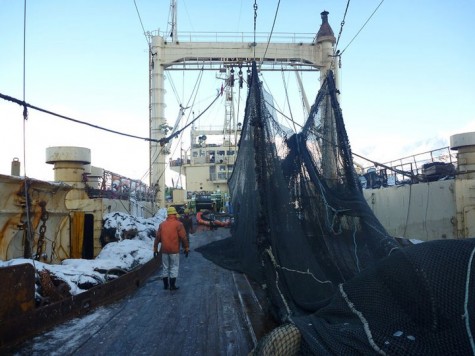 Not a lot to report today. Yesterday we had some boating in the morning with an inspection to do and then after a skin had boat school in the afternoon. I taught a session on electronic nav aids and the use of radar, GPS, RDF, AIS etc. after a session in the dining room we went down to the jet boats and everyone had a play with the instruments.


Sam's picture yesterday when we were skinning from Grytviken looking out of the Cove. With the settled weather we have quite a bit of pancake ice and nilas in the cove.
Today was blustery and cold (-7C) with snow showers however, at 2pm I forced myself out into the driving snow and limited visibility for my daily skin. I only went as far as the museum and not onto the hydro. It was a day of paperwork filling in people's training logs and rewriting the syllabus. I have also been writing up boat school notes for the next boating officers to use or delete!
Matt will be staying on for another year as will Tommy, Al and Katie who will not have left the island for 26 months by the time they leave. In a bid to save money BAS and the South Georgia government have decided not to replace me until April and at that point Paula (boatwomen I replaced) who was here for 26 months will return for an 8 month stint. So Matt and Paula will be training the three people who are coming to base in October/November – a new base commander, mechanic and docter.
Tomorrow I am on earlies again so it is time for early bed I shall make fish and chips. I pro
Comments Off

on All Quiet