Busy Boating

We have Adrian Fox at base he came in on the Plancius on Thursday to map the Busen and Barff Peninsulas. Adrian is head of MAGIC which is the mapping division of BAS. Basically he is ground truthing the aerial photos that were taken by a military helicopter. The way he does this is to find easily reconizable featuers on the photos and then we take him there by boat.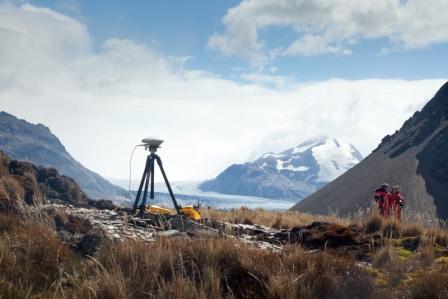 At each site he sets up a tripod with a GPS which looks at 12 satellites over an hour. It logs the positions and after this is inputted into a program the position given is accurate to within 5cm. Normal handheld GPS's are accurate to within 5-10m.
Friday and Saturday we boated for about 5 hours and then 9 hours. Today (Saturday) we went on an extended trip to Stromness Bay.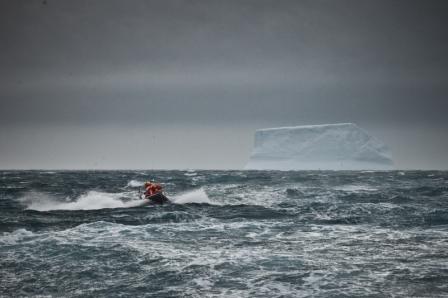 The wind was around 25 knots in the morning outside Cumberland Bay and it built to 40 knots in the afternoon. We were lucky enough to be going downwind coming home in 2 meter swells.
The beaches were very furry and after two seal bit incidents in the last 3 weeks everyone is a little bit less cocky around the furries. I only went ashore at Husvik as we were at anchor where as the other two sites this afternoon were not anchorable coves so instead we drifted with the engines off to save fuel.
Last night after a long day where we got back at 6pm I was on cook so I made a choice of steak and chips, beer battered fish and chips and toothfish fillets with cajun seasoning grilled and a clarified butter and lemon sauce on with bell pepper sticky rice. A dessert of lemon tart. It was a bit of a rush to get it ready for a 30 minute late dinner time of 7:30.
We then went out on a night trawl for the benthic science program just off base so didn't get finished till past 11pm by the time the boats were away. We were up and working at 7am as we needed to finish getting the boats ready for the trip to Stromness.
Tomorrow is a day off and I hope to get to the last peak on the Thatcher if I can persuade someone to go with me. Tommy is off with Kalinka and Katie at Harpon and Rob has gone for four days to Fortuna to help with the rat catching OTEP work.