Cooking day again
With only seven on base earlies are coming up quickly so I had to come up with something to serve the masses. With Ali and Matt going out tomorrow we will be down to five. We were called out to the reefer in the bay with Dr. Sam for a consultation at smoko time.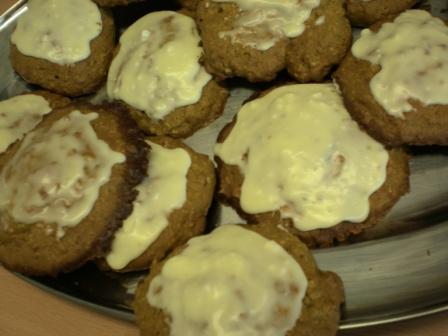 Just before I pulled some pumpkin cookies out of the oven. Yes we still have pumpkin puree left!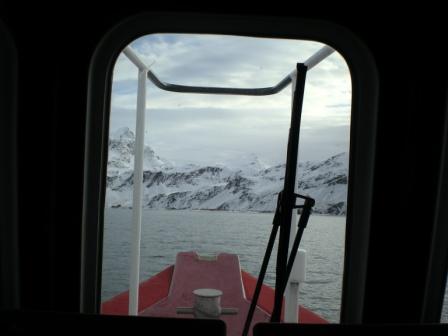 This is the view from the jet boat window on the way back from the reefer. We took Sam and Pat out came back for a cup of tea (for Ali as I don't partake in the British national drink) and a bit of cooking then back out to pick them up just before lunch.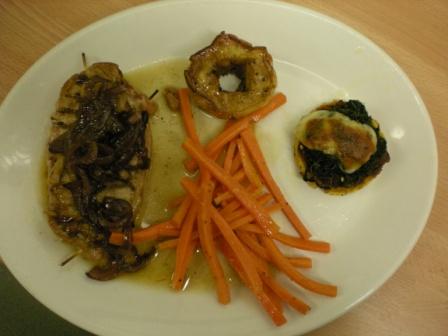 I plated up dinner instead of putting it as self service. The menu was pork loin wrapped in bacon with a cider reduction (made with stock made from the pork cutoffs), jullianed (spelling?) carrots with cumin, lemon juice and butter, polenta biscuits with homemade tomotoe sauce, spinach and mozarella cheese and a baked apple with brown sugar and sage.
The snow was still around as it has stayed cold so at lunch I went for a skin around Grytviken and just before dinner squeezed in a trip to the gym.
One Response to "Cooking day again"
carrots julien.

Just wondering, as it's the start of Ramadan. I know South Georgia isn't at that high a latitude, but how would Muslims manage during Ramadan at KEP?

Not being able to eat during daylight might not be a problem this year, but what about other times or in the Arctic?