Gentleman start your engines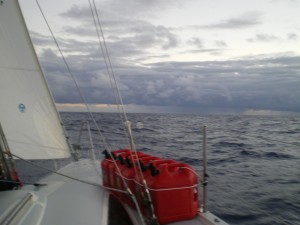 Many jerries of fuel to be used!
Well we did that days ago it seems and are still motor sailing. Yesterday it cleared into a warm sunny day and after a beautiful sunset I thought we might get a night full of stars. 45 minutes into my first night watch the stars had been replaced with a blanket of cloud and when I came up for my second watch we were in damp dense fog.
Yesterday morning the wind shifted to the west which was not predicted by the grib files. I am not sure why I am surprised as the GRIB files haven't made sense this whole trip! We keep on getting enticing wind reports from the boats ahead at roll call but by the time we get there there is nothing! I am pretty glad I loaded up with fuel at this point. We could actually motor all the way to the dock!
This is the first delivery back that I have done roll call and I have to say it is good for a few laughs each evening. Last night JP got on from Recividist asking if anyone was putting up their spinnakers. I said we didn't have any left after the race but he should be totally fine seeing as he doublehanded over with his fiancee. He mentioned several times about wanting to get home – I thought come back to me when you have done 9000 miles in 2.5 months! He did the race over but was with his fiancee so basically that is like having all the comforts of home 🙂
The next laugh was when green buffalo asked if we had caught up with them yet. We have closed the gap and have been daily. Then he mentioned that Coyote, Buffalo and Rhum Boogie are all in the same harbor and it was a race to the showers. Well that is like putting a red flag to a bull with me 🙂 I said well you have water line length (Buffalo is 40 feet and Coyote 42 feet) and your engine has more horsepower. He mentioned we had larger sail area to displacement – he has a point…. however, he has an autopilot and has hand steered only 3 hours of the trip so far where as we have hand steered 100% of the way. Anyways he said – I didn't realise it was a race to the dock – at which point Doug off Delicate Balance said – are there more than two boats on the water! So now it is game on. My crew want to see the spinnaker so in the interest of education and to stop the ringing in our ears from the engine we might have a go for a few hours this afternoon with the big mother.
We have also decided there should be a delivery race back from these trips and the handicap should be decided by fuel used, number crew, autopilot hours, customer satisfaction (i.e. crew grading the skipper), water line length, fish caught etc. You get bonus points for rescuing sea creatures and demerits for needing outside assistance like Deception requiring a battery from Hula Girl.
Also we want to pass the Farallones at sun up on the 11th as there is no point in getting in in the middle of the night on the 10th/11th.
Position today is 38 10N 132 11W we have green buffalo off to port and coyote off to starboard so we are going to head them both off at the pass!
2 Responses to "Gentleman start your engines"
Laurie August 8th, 2010 at 7:18 pm

Go, go. go!!!!!!!!

Barney Desroches August 8th, 2010 at 11:25 pm

You're almost home!

When you have and ETA for going under the Golden Gate Bridge, let us know. Also, post a description of your sailboat: hull and sail color, number, etc — so we can ID you coming into port. Will you dock at the SF Yacht Club?

Give a hello to Edward. Tell him, "Comrade Barndrofski" will have ice cold Pilsner's to quench the thirst of all aboard. Or is champagne prefered? Please advise!

– Barndrofski