Leg two Kinsale to Barra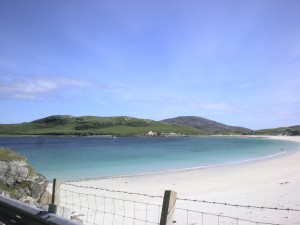 Looks like the Carribbean but a bit chillier!
The leg from Kinsale to the Fastnet rock was a beautiful spinnaker run dropping at the rock and heading up on a broad reach on the rhumb line past Dingle where we ran into a wind hole and watched helpless as everyone behind roared up behind us and we in effect restarted. The wind came out of the North and built leaving us to beat the 120 miles up the west coast of Ireland into 25 knots with a reef and the number four. While charging in the rough stuff we got air in the fuel line and the engine shut off. We turned off all electrical for 36 hours as we couldn't charge in the conditions – a big disadvantage which I didn't realize the boat had ? At 2:30am with the need to turn on the computer as we were closing into the shore line I tore apart the interior of the boat removing the engine cover and bleeding the engine. The air block went all the way to the injectors requiring me to even crack those and it sputtered to life thankfully as it would have been a long next few days. The beat turned into dead down wind to Barra from the NW tip of Ireland we tried to stick to the rhumb sailing really low i.e. 170TWA for 6 hours in 20+ knots. Several times we were joined by pods of dolphins and even a whale. We knew the wind was going to veer to the North so we built up to 7 miles to the west of the rhumb line. After yet another rainy system came through and cleaning up after my brothers Chinese experience we had the number 3 up and were reaching to Barra Head eventually in beautiful sun and blue sky. We finished at around 4pm yesterday and just as we finished the rain came in and it started to blow 25 just in time for us to pull out the two anchors to anchor just off Castlebay.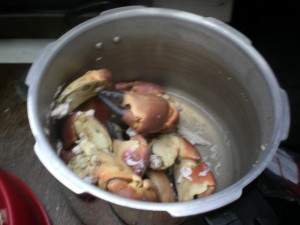 A nice fisherman in Barra gave us 12 crab claws which we cooked up for starters in Barra while at anchor.
One Response to "Leg two Kinsale to Barra"
didnt know you took a pic, well done x mum