Working on lower legs
The sky was a brilliant red which reflected off the water in the cove but for only about 5 minutes this morning. A really stunning morning run. By 07:30 when I was at my desk the first big snowflakes were coming down and it continued to snow all day until 4pm when I took off on snowshoes with Rob to Deadmans.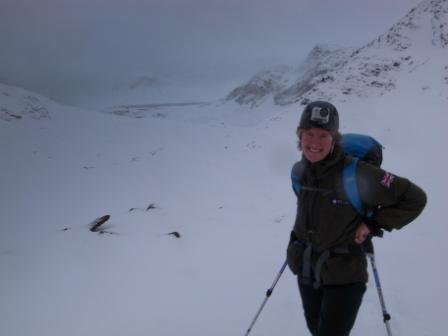 With my GoPro camera on my helmet courtesy of the pot luck crowd in San Francisco and the crew and owner of Chance
As the roofs around base heated up the snow started coming off in large rooficles (the same shape as the corrogations!).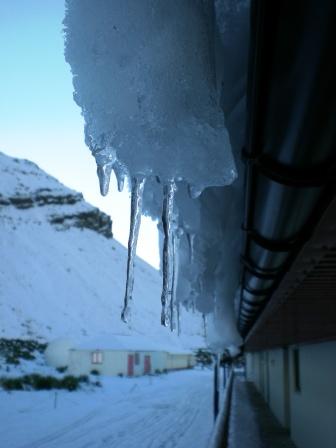 During the work day we have continued to do some work on the RIBs and Matt took apart the lower leg of the second to last engine that needs a full service. Unfortunately it was full of water in the lower unit so it needed some new seals however, it wasn't coming apart easily. Seeing as Matt was on earlies and needed to make dinner I took the lower unit off the one waiting for it's full service and serviced that so we could swap the lower units as the engines have only a few hours difference in running time between them. We like to keep the boats ready to go out at any time.
Rob took some really great pictures of the walk through Grytviken (see below) and up the hill to Deadmans where we retrieved the jerry can of fuel and moved it to a higher vantage point but still next to the bamboo stake used to mark it when I hauled it up there on wednesday. Things can get lost in the snow very quickly around here with the wind blowing the powder around.