Archive for November, 2011
Today we all went to church. A cruise ship came in bringing the ashes of Frank Wilde to be buried in the cemetry next to Sir Ernest Shackleton. The boys dressed up in their suits and ties and the officers of the fisheries patrol ship were all in their shirts and ties with epallettes with the South Georgia crest. It was wonderful to see everyone make an effort.
The reverend of the church came from the Falklands with his wife to conduct the ceremony and there were many Wilde family members as well as Ernest Shackleton's grand daughter. Luckily it was flat calm, sunny if not a little chilly.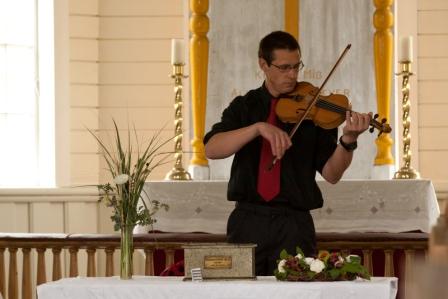 Rob played two Shetland tunes on his fiddle, the church was absolutely packed and there were at least five TV cameras. Sam was the local Paparazzi all the pictures on this post are by her.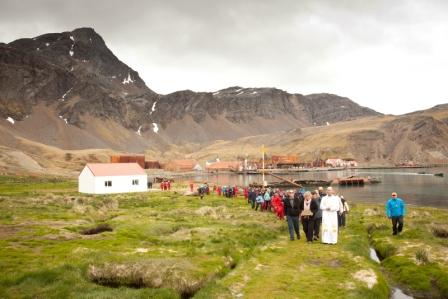 After a church service with hymns and eulogies by the Reverend and the Wild family members there was a procession from the church to the cemetry. The family members and VIPs were allowed inside the fence while the plebs (us included) lined up along the fence line to watch the proceedings.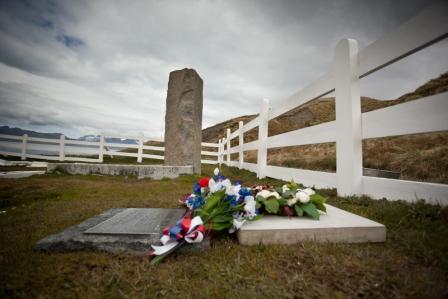 The ashes were put in the ground to the right of Shackleton's grave. The author of The Quest for Frank Wild who found the ashes in South Africa and organised for them to come to South Georgia owned the original cards that were put on Franks tomb in 1939. She had two of them laminated and attached them to a wreath which was laid on his new resting place in South Georgia.
The tradition of a toast to Shackleton with a shot of whisky then occurred and all were invited inside the fence for this. However, after the toast to Shackleton there was a toast to Wild before the remains of the shot were poured onto Shackleton's grave.
Frank Wilde was Shackleton's right hand man and stayed on Elephant Island to lead the men there while Shackleton headed off on the James Caird for help from South Georgia. It is fitting that he has been returned to the South to be buried next to his friend.
http://www.telegraph.co.uk/news/worldnews/antarctica/8918916/Explorers-ashes-finally-laid-to-rest-next-to-Sir-Ernest-Shackleton.html