Tips and tricks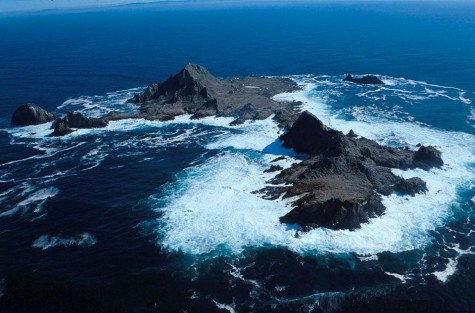 I have had many calls this morning from fellow racing sailors and journalists all trying to come to terms with what happened asking me questions about it all. I wasn't there so everything I have to say is conjuncture based on my experience sailing offshore along this coastline.
The press should call the SFYC who has a person handling the media and I do not wish to be quoted or have anything I have written in my blog be quoted. I have been asked to provide pictures of the people and will not do that either. I am fielding these calls due to the business I am in and I am writing this purely for friends to read and for my own feelings.
This picture came from FB of the islands where the accident happened on a nice day. As you can see there are breaking waves around the whole island. Once a yacht is in the surf zone it would be suicidal for anyone on another yacht to try and assist. I am very sorry for a friend of mine who has the image of the accident etched in his mind right now and was powerless to assist – he was on a yacht further out to sea running parrallel to LSC.
Had they been tethered to the boat with the initial wave and been on the end of their tether hanging overboard very quickly the other people on the boat might have had to untether to attempt to assist. It would have been very hard for the people remaining on the boat to have pulled 4 or 5 people back onto the boat even on a flat calm day it is very hard to pull one person back aboard never mind multiple. I have been overboard at the end of my tether at night in the Fastnet race but I was lucky as I was prompty delivered back aboard by the next wave. If you are hanging outside the lifelines on the end of your tether it would take immense strength to get back aboard without help from sailors still on the boat.
There would have been no time to recovered the people who were over the side and get the boat out of danger once the boat was disabled and waves were pushing them towards shore. With mast carnage in the water starting the engine would have resulted possibly in a wrapped prop had the engine been in working order after the boat took the pounding it did. The engine might not have had the power to get out of harm way either. If they didn't have crotch straps on their lifejackets with the power of the waves there is a real possibility the jackets would have been torn off them.
The white shark season is August through January so they are unlikely to have to deal with this horrifying prospect indeed the coastguard saw no sign of sharks during their search. Liferafts would not have made a difference as this would also have just be pummelled by the waves and thrown onto the shoreline. My Personal Locator Beacon has a 12 hour battery capacity and sinks unless it is in a neoprene pouch I don't know what Jordan's EPIRB model was. In that type of wave action after setting it off it would have to be tethered so as not to float away.
The ocean is very powerful and a lee shore a scary place to be. The whole thing is frustrating and very saddening. We all take these risks every time we go on the water. It is an amazing sport to be involved in and the community is strong and supports its own. There should be no blame pinned on organisers of the event only lessons to be learnt. Learning lessons is the best way to remember our friends who died. The emergency contact information you give out should be someone who is not likely to be racing in the same event with their cell phone off. Friends should have a way of reaching your family without having to search too hard for that information.
I gave Jeff a few ideas when I saw him at the club last night… maybe they are useful maybe not.
All in all a sad time to return to the bay area but also I am glad I wasn't the other side of the world hearing of this piecemeal.