Archive for May, 2007
By Neil 'Jaffa' Harrison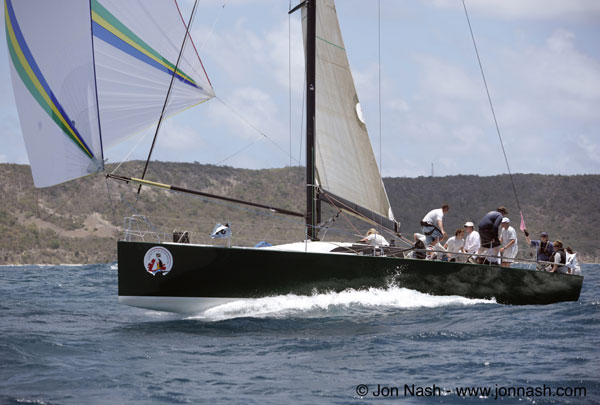 Avia Willment director of Universal Marina (Hamble, UK)Â along with Paul Smith and David Gaskin, chartered The
Rogers 46 Yeoman XXXII from David Aisher for Stanford Antigua Race week. Tactician for the week was Neil 'Jaffa' Harrison who runs The Metre Shed at Universal Marina and is Director of Jaffa Racing. Leading the trimming was Richard Burlingham, also an employee of Avia Willment.
The week consisted of various races from Round the Island Coastal style to short course windward leeward all held in
15 – 20 knots of breeze, scorching Sunshine and a moderate sea. 'Universal Marina' sailed consistently well in all
the races posting 5 race wins a 3rd and a 4th to win Racing Class Two by 6 points, and 5th overall in division behind 4 Class One yachts.
Avia came up with the plan of competing in Antigua late in 2006, and gave Richard and Jaffa the task of finding a
boat that would win in Antigua. They selected the Rogers 46 as the boat they felt capable of winning class in Antigua, she was light, fast and would revel in the expected conditions in the Caribbean. They were not disappointed. In training they hit 20.68 knots in 20 knots of breeze, while racing they were often over 18.
The crew for the week consisted of: Avia Willment (Skipper), David Gaskin (Float), Paul Smith (Main), Thomas Lindquist (Helm), Jaffa (Tactics and Nav), Richard Burlingham (Trim 1), Neil Fullerton (Trim 2), Douglas Watson (Grinder), Gordon Dundas (Mast), Ashley Perrin (Pit 1), Elizabeth Dobson (Pit 2), Natalie Gray (Mid bow) & Nick Bishop (Bow).
"The guys all worked really well as a team coming together quickly after only one days training. We spent a day prior to the charter getting everything in order, Richard did a great Job on setting the rig up, which is a major factor in the boats performance, if this is not perfect the boat just wont find that extra gear you need to pull away from the Fleet", commented Jaffa on reflection of the weeks outstanding performance.
A great week and a great result.
 Press Release at http://www.rogersyachtdesign.co.uk/news_press.php?RECORD_KEY%28hotnews%29=news_code&news_code(hotnews)=37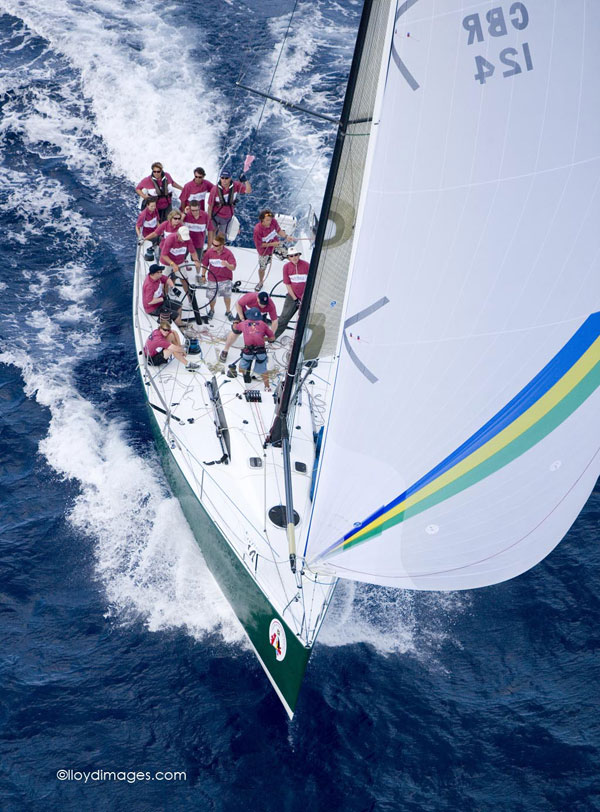 It is 1:30am on Sunday morning I came on watch at midnight and am still a little groggy from my 3 hours of fitful sleep. I attempt to wake myself up with a large injection of sugar in the form of a piece of decadent chocolate cake. The relative cool of the night is blissful. 13 hours earlier I had been sitting on the deck in the unrepentant harsh Caribbean noon sun sweating profusely the bottle of water I had brought up with me was now luke warm almost warm enough for a proper English cup of tea! When I went down at 9pm Saba Island was just off our port quarter the island is very mountainous and the lights of civilization look as though they are hanging in the sky. Three hours later Saba is well behind and the moon is reflecting across the water bathing the boat in a warm glow. The light of the moon hides any light pollution that might have been visible. I am on my own on watch there is no autopilot on the boat so it is lifejacket on, clip in and as there is less then 10 knots of wind from dead behind the engine is purring away propelling us towards St Thomas where the boat will be loaded on Dockwise for the east coast racing in June. In my mind a pretty good delivery J no pounding upwind and worrying about the boat. The only sign of civilization is another boat coming my way going 'down island'. I enjoy these rare moments when it is dark and I can attempt to switch off my brain. I reflect on the Caribbean season of racing that I have been privileged to take part in with Yeoman XXXII. We left Florida on with a delivery crew of five – three of the delivery crew under 23, myself at 29 and the owner's brother Tim. (Poor Tim had to put up with push up competitions on deck between the 20 year old boys). Mac and cheese and Top Ramen were popular snacks. The delivery was uneventful with the exception of a fast ride through the Bahamas regularly hitting 20 knots with spray blinding the helmsman. The 120 gallons of diesel on the stern helped to keep the bow from burying with a small jib from a 38 footer and 2 reefs in the delivery main Yeoman XXXII was reveling in the conditions, despite being in 'RV" mode (full of spares and sails). The two young relatively inexperienced crew members aboard were wide eyed.
In St Maarten the boat and myself were on charter to a group from Calgary. They renamed the boat 'The Blue Eyed Sheiks of the North' a clue as to how they make their money. The helmsman was a Canadian Olympic sailor and the navigator/tactician owns a charter business in BC. All 'old' guys who every year charter a boat for Heineken as their annual holiday without family. I was determined to make it a good one for them. Experience ranged from Olympic sailor to Charles an English guy who I don't believe had ever been on a boat. Other then the yearly trip they don't race at home and very rarely step on a boat so it was an exciting ride for them. Top speed was around 21 knots during the week.
Due to the bridge openings at 7:30am dock call each morning is at 6:45am so this requires the boat captain to be up and out at 5:15am. You don't get back in till the 3pm bridge if you are lucky otherwise it is a 5:30pm bridge so it is a long day on the water. The guys were there to soak up as much information as possible and as smart successful businessman they tackled the boat head on and maneuvers got better each day. I have a lot of admiration for one of the crew in particular who has prosthesis – his leg was amputated below the knee. He did sewer with gusto and learnt quickly how to band the kite going upwind and pack the retrieval line ready for the next mark rounding. With winds up to 25 knots Yeoman provided them with a few downwind sleigh rides and there were a lot of grins about the 3rd place at the end of the week. It was hard to compete against the well sailed Swan 56 Noonmark who loves long upwinds and the carbon RP44 Storm a local boat with a lot of talent. The Heineken regatta is a great race week with a mix of coastal courses and windward leewards and I enjoyed the European flavor of the island.
Next stop was St Thomas and BVI regatta which was meant to be the owner's regattas however, due to tearing his Achilles tendon two weeks before the regattas he was out. A few other key crew members had to bail due to work/visa problems. So with two weeks notice I needed to find four key crewmembers – helm, tactician, main trim and mast/mid bow. They needed to be good sailors, be able to take two weeks off with two weeks notice and needed to be able to pay their way. All in all pretty hard to find! Sometimes things just fall perfectly into place. We ended up with a mixed group of the normal British Yeoman crew and four Bay Area sailors' three of whom sail together on a J120 and the other a former Farr 40 owner. Five girls and eight guys drank copious amounts of rum and tings and had the best time that I have seen a crew have. I smile a lot when I think about those two weeks we had a lot of laughs. The Caribbean regattas require consistency as they don't have throw outs so any gear failure means you drop quickly in the rankings – this unfortunately caused us to have two bad results putting us back in 3rd place overall.
The regatta at St Thomas requires the boat to be anchored out – not something that race boats do gracefully so I was happy when we moved on to Nanny Cay marina. No more rows upwind against the trades in a 10 foot dinghy to the outskirts of the anchorage every night to stay on the boat. I was able to spend my nights tucked up in a nice bed overlooking the straits between Tortola and St Johns. On the delivery trip from the USVI to the BVI we stopped off at Norman Island where I introduced the crew to Willy T's bar – it was hard to pry them away. Another day of racing took us up to Bitter End on Virgin Gorda the day was very British in terms of the weather – cold and raining – the Rolex flag from St Thomas provided shelter on the rail! The crew split up for the layday – half sailing lasers and half taking to a 30 foot motorboat to site see amongst the Baths and the bars of Jost van Dyke. We raced back to Tortola finishing 3 seconds after the time limit after a very long day on the water going upwind into shifty light winds.
After the first day of BVI regatta we were lying in 3rd place to ABN Amro and Titan. It was fun sharing the starting line area with these fast boats that of course very shortly afterwards left us in the dust. The second day of racing was Yeoman type conditions with enough wind to get her planning unfortunately we had to retire for the rest of the regatta due to a damaged rig. The rig had to be repaired in a very short timeframe to get us to Antigua in time for our next race week. For Antigua the boat and myself were again under charter.
The boat is fast upwind sailing to her polars and downwind so far our top speed is 25.7 knots. She starts planing at around 18 knots of wind and rewards hard work on the part of trimmers and grinders to pump her on each wave. She is also really forgiving downwind and doesn't wipe out easily but the helm has to concentrate fully to get the numbers.
The season has been hard work however, it all paid off with the last results of first in class at Antigua Race Week. Thank you to all who helped out on Yeoman XXXII down island maybe we will be back next year J