Archive for July, 2008
For the race back only 2 boats were entered so we had a little match racing pre start action going on but it was drifting conditions and my little brother on the helm got pushed over the line early by the old guys on Imperator so he had to go back. We then worked our way out of the bay – very light upwind. At the 1st mark 7 miles away we were about 200 yards ahead of Imperator who is 5 feet bigger than us. It should have then been a reach for 70 miles to the next corner however the wind increased and it became a dead beat. With 7 crew on the rail Imperator took off as we changed down to a number three and went into a watch system with 2 on deck and 2 below – it was going to be a long race if the grib files were correct.
Imperator could not point and for the next 9 hours kept on tacking above us and then falling down onto us and ending up miles to leeward. We just stayed on port tack and watch them be a satellite! Finally we decided to have fun so when they crossed ahead really close my little brother Myles and I hid in the cockpit with Myles helming from on the cockpit floor so when they crossed no one was to be seen – they had 5 people hiked out at the time with way to much headsail up. Then they tacked a 1/2 mile to weather of us and started falling down on us. So we went to the next stage of having a laugh. Myles put on his ski goggles, Flavio got out the fog horn and I suited up in my lifejacket, harness and trapezed while Flavio sounded the horn. We were in fits of giggles. Totally against the rules however, we decided there was no way Imperator would protest as it was only us in the race and we weren't gaining any advantage as we only did it for 5 minutes! Myles texted the race committee who were the best race committee I have had in a long time and admitted our infringement – a bottle of jack daniels was our penalty!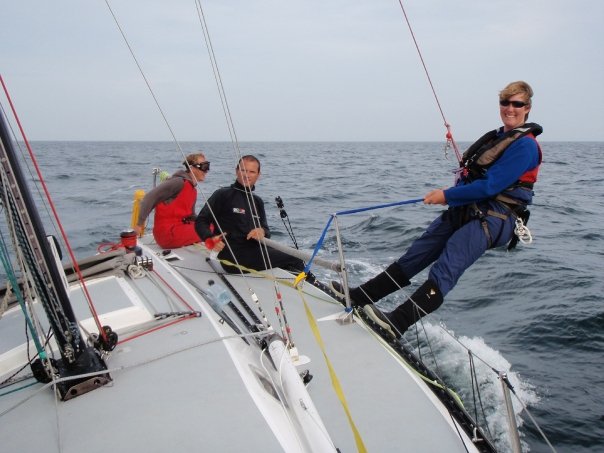 Imperator dissappeared to leeward again and ended up crossing in front just as the sun set by about 20 yards. The wind died in the night and shifted behind us so we hoisted the spinnaker we lost Imperator's lights. When the sun came up we looked around and could just spot Imperator on the horizon behind us. They stayed there all day getting smaller and smaller we estimated about 9 miles behind.
Out ETA became 6pm at Ushant on Friday night – a very slow race and the sea was becoming glassy calm. The grib files looked really bad not even showing feathers on the wind direction. We again texted the race committee and asked if it was possible to shorten course at Ushant and that way we would still get results for the race. There was still 120 miles of the race left and there was no way we would do it before Saturday night when the prizegiving was going to be held. They left a message saying that we should retire and motor to St Peter Port as Imperator was retiring and had had a sense of humor failure and were protesting us for the trapezing! That was a surprise to us seeing as they had not flown a flag and not told us at the time of the incident so the protest was not valid. However, we decided not to float around being the only boat out there and turned on the engine heading for St Peter Port.
It was a 24 hour motor to the finish and the engine started spurting fuel out of the lift pump as the gasket had failed so there was a bit of babying going on – the rpm's would change as the engine would be starved of fuel every so often. We couldn't fix it as we didn't have a new gasket.
Peter Chantres the JOG secretary was standing at the fuel dock with nozzle in hand as they were closing 5 minutes after we pulled up and we filled up with diesal. He had also kindly organised for us to stay on the fuel pontoon for the few hours we stopped there which was very kind of him. I have never come across such a great race committee!
In St Peter Port we ended up with the trophies as they had already been made so it was worth the motor for a nice Pimms jug! We had to sit through the your boat is a bandit conversation with Imperator and then went off for a nice pub dinner before leaving 4 hours later for the Hamble.