Archive for June, 2009
I wasn't able to get my act together to take 116 Flashman up to Huntington last week so instead I went up on 106 Numa Boa. We had 5 days of great close racing in mostly flat water number 1 weather. The camping was fun and relaxing despite a few days of nearly freezing conditions. The smores were delicous as were all the great meals put together by Mark and Gilles and their other halves. I enjoyed just having to show up with a sleeping bag and tent and getting to go sailing without all the organisational effort. Everyone learnt more about how to sail Moores and I managed to measure quite a few rig set ups so I can decide what to do with ours. Just had some good friends over for dinner and I am racing friday, a wedding on saturday and racing on sunday.
Have a great rest of the week.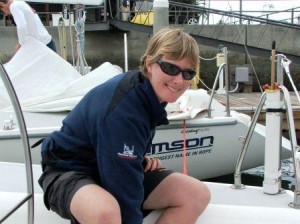 Since I got back from Italy I did
the Spinnaker Cup,
worked on the Saga 409 and we went out for our first test sail,
started sailing in Wednesday night match racing practice races in Tiburon on J22s,
did some Friday nights on the moore 24,
worked with my brother in his yard,
went to the premiere of UP the Pixar animated movie (one of our crew is a fix animator of the movie),
had a great time with my nephew and mother at the beach,
took my nephew to a BBQ at some friends,
been to Monterey for two days of diving and learning how to take apart regulators and tank valves and worked on a bunch of boats. So it has been a busy last three weeks.
Right now I am in Long Beach for a Grade 3 match racing event called Ficker Cup sailing with Bruce Stone. We had practice yesterday against Sally Barkow with Dave Perry coaching. Today we had 5 races and ended up winning 3 and losing 2. So we now are tied for second in points but are third in a count back out of 5 boats. Amazingly for us we beat Dave Perry (the guy who writes the rule books!). Tomorrow will be the second round robin so we hope to keep up the good results.
Today I had to take apart an organiser and the ball bearings were not captive. Luckily I knew this so opened it up over a box. The ball bearings were numerous and they are about 1/8 inch diameter so they are small. So the dilemma becomes how do you get them back into the sheaves. The key is shaving cream! you put the shaving cream in the bearing race and then put the bearings into the shaving cream. It is sticky enough that it holds them all in place while you reassemble the hardware. Then when you are all done just wash the cream out with water. Voila!