Archive for July, 2011

Stunning blue sky today – picture of my kit with Sugar Top behind (large mountain to the left)
Today was too beautiful to stay inside with a headache so I took paracetamol and headed for Gull Lake. Unfortunately for the movie makers they ended up staying inside editing on the computer so I was on my own on the slopes overlooking the cove. I stopped at Shackleton's grave to soak up some rays of sun.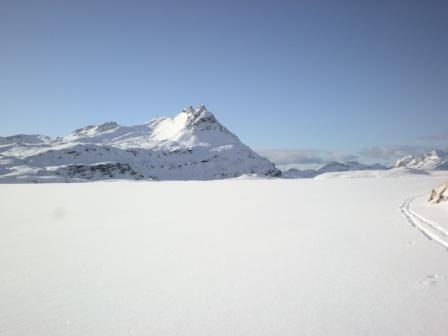 I skinned up alongside the waterfall and then had to remove my skis to front point up a very steep portion. Once up to Gull Lake which is frozen over I did a circuit along the shore of the lake which was beautiful snow conditions.

Skinning self portrait!

While sitting in the sun having lunch looking over the pancake ice covered cove Pat and Sarah skinned by on their way to Penguin River.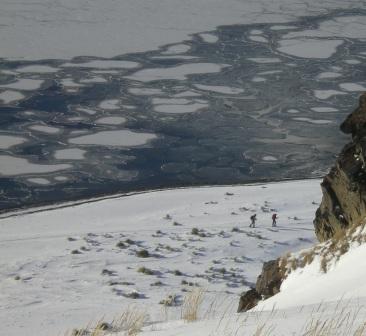 Pat and Sarah far below. The next person tempted out was Tommy for some snow boarding to the left of the track. The conditions were absolutely beautiful and I did two runs before the sun went below the mountains leaving the slope in the shade. I decided it was time to retire to the boatshed ramp where the sun stayed a a while longer. Tommy kept up the snowboarding.
What a stunning day.