Archive for June, 2010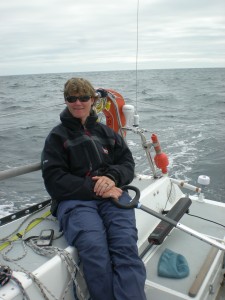 Quote of the leg – "I feel like I am in a wetlands nature reserve." this from Myles as we disturb yet another lot of seabirds sitting on the glassy calm sea at night trying to sleep. The puffins flap and squawk and work very hard to not move very far – kind of like us!
It was a hard slog on the longest leg with absolutely no wind at points. We didn't realise how much of a match race it was with Suroma but looking back at the tracks it was a very exciting race for those ashore to watch! At some points especially after being taken 21 miles off course to the west of the rhum line when we thought we had lost the lead to Suroma the boat was fully depressed!
We had to remind ourselves that it was at times beautiful sailing conditions. The cable layer had an exclusion zone of 3 miles either side and in front and 6 miles behind it so in essence it was a 54 mile moving exclusion zone. They pushed us into the center of the high and we almost lost the will to live. Luckily on the 3rd day we saw what turned out to be Beyond on the horizon and that spured us on. Then later that day we saw another boat on the horizon and pursuaded ourselves it was Suroma. We both went into inshore mode and worked ourselves into a frenzy and finally passed them and then found out it was Zest the Sigma 38. We cruised in company with them for a day and half and then on thursday night as we were 25 miles from the finish we tacked and they didn't follow. The last night we didn't sleep constantly trimming and working the boat really wishing we had an Autopilot.
On this leg you don't see land for 95% of it so there is no cell phone signal it wasn't until we got 25 miles away that we were able to find out where our competition was. At that point the smiles returned on the boat and depression lifted as we enjoyed going downwind in albeit very light wind in the sun.
We drifted across the line in 3 knots of wind with the tide and were followed in by Suroma 12 hours later, Zest about 2 hours later and Beyond about 10 hours later. What a frustrating leg! We are still in first and start again tomorrow morning in very light winds for the next week. We both have things we have to do July 1st – Myles a job interview and myself a flight so we will have to work hard to make it.
There was rowing involved again on this leg. Getting around the oil rigs was not as much of a mission as it was last time maybe because we had AIS. The AIS was a complete lifesaver great bit of kit worth every penny. All the ships altered course to go around us with the exception of the cable layer. The sandbanks off Lowestoft were challenging yet again and I promised myself never to come back to the North Sea. Myles on the other hand is suggesting we do the sevenstar round britain race doublehanded end of August going the opposite way round non stop. That would be the definition of crazy 🙂
Thanks to Taika (Kim Vasey) we have an autopilot for the last leg of the race so it will be a lot easier in the light airs of the next leg to trim the boat without wondering around the ocean at the same time 🙂