Archive for December, 2010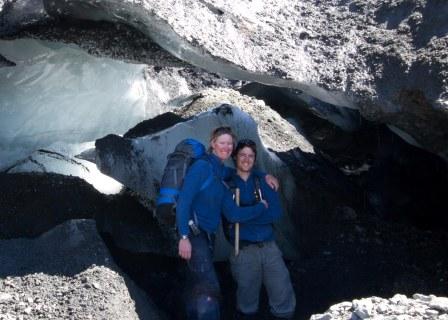 picture by Dr Sam
Today was still a holiday on base as it was bank holiday2! Much more relaxing here than Rothera that is for sure. So we all got up to different things…
Alastair still had to go see the seals at Myviken as there is no such thing as a bank holiday for seal science. But he was rewarded by seeing a south georgia pipit which for a keen birder such as Alastair this was a momentous occasion. He did an all stations radio call about the sighting of the said bird which caused quite a stir over the VHF radio waves. This is a picture I poached off the internet…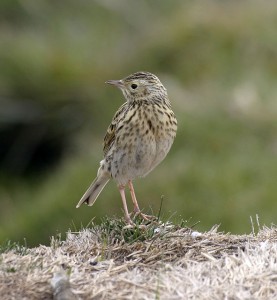 What is so special you ask? Why do people spend 10's of thousands of dollars to come south to see one? Below is from Wikipedia
The South Georgia Pipit (Anthus antarcticus) is a sparrow sized bird, only found on the South Georgia archipelago. It is the Antarctic's only song bird, and South Georgia's only passerine, and one of the few non-seabirds of the region. It builds nests from dried grass, and lays four eggs a year. It lives off insects and spiders, and beach debris. It has been threatened by the human introduction to the islands of rats, and also by environmental damage caused by humans themselves.
The rat eradication project that South Georgia Heritage Trust is embarking on will hopefully mean that they are seen around KEP more frequently. Check out http://www.sght.org/projects.htm for more info on this project.
Meanwhile five of us went over to Glacier Col as none of the group with the exception of myself had been to the dying glacier. It was a stunning day for it and we had a leisurely time stopping for a quick swim in the meltwater lake at the bottom of the glacier.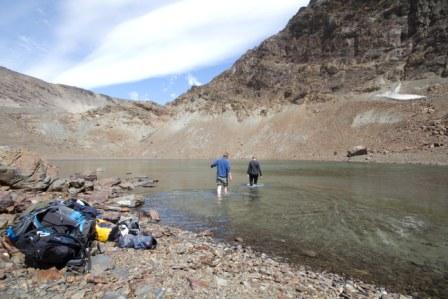 picture by Dr Sam
While we were walking up there two aircrafts flew over KEP which is a very rare thing indeed. The military were basically practising by sending out their planes from the Falklands. Although they can't land they can air drop items which is an important thing to be able to do in the case of a major incident involving a cruise ship or fishing boat.