Wreck Diving on Rainbow Warrior
It was too short of a stay in the Coromandel before we got in the car and drove 7 hours north through Auckland to the Bay of Islands. We stopped along the way to check out some of the smaller towns on the way to our farmstay in Keri Keri. I dove with the Pahia Dive HQ team for two days.
The Rainbow Warrior was laid to rest just north of the Bay of Islands twenty years ago after being towed north from Auckland. It is 15 minutes from the shore by RIB which was launched from the beach using a tractor. The visibility was about 30 feet – the end of the mooring places you off the stern of the vessel. The starboard side is covered with jewelled anemones and it looks like a painters brush strokes as they are grouped by colors – red, green, pink, orange. If you get up close there are small fish feeding off the ship and then you can poke your head into a large hole on the starboard side. There are about 50 large mackeral that live in the vessel and they swim around in circles when you stick your head in the light glistens off their silver scales. After a great lunch on the beach we had a shallow 2nd dive.
Check out a video here of diving on the Rainbow Warrior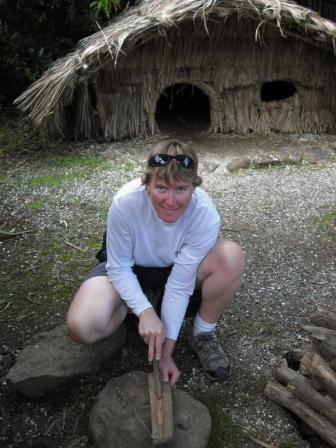 After diving we went to a chocolate factory – not good for the waist line – and then onto Keri Keri's historic stone house and a reenacted Maori fishing village.
One Response to "Wreck Diving on Rainbow Warrior"
Ah, a Maori Princess hard at work? I'm kind of seeing the resemblance, but it's a bit of a stretch..