Pirate night
Tommy and Katie asked to have a joint birthday party and I was on cook today which was the first saturday since their birthdays that everyone was on base. I had a really great time making the food for it. My menu was as below.

Shrimp filled galleons – phyllo pastry shell filled with shrimp baked in three cheeses with hot sauce, paprika and worchestire on a sea of blue gelatine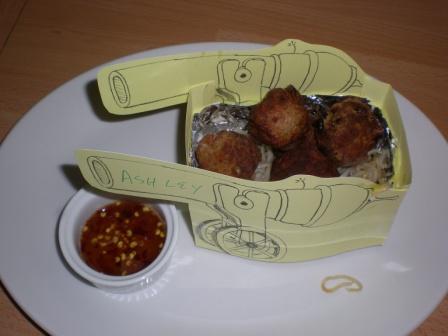 Fiery pork cannon balls – thai pork and beef meatballs with a homemade sweet chilli sauce on a bed of crispy noodles. The cannons were drawn by Tommy who I threw a piece of paper and pencil at during smoko and asked him to draw a cannon off the top of his head – not a bad job.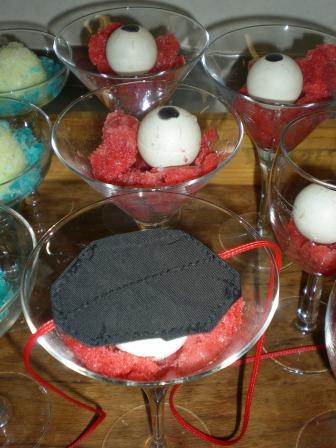 Eyeball Sorbet – homemade strawberry sorbet with a ping pong ball eye and a fabric pirate patch. Still from a batch made by Matt H last year..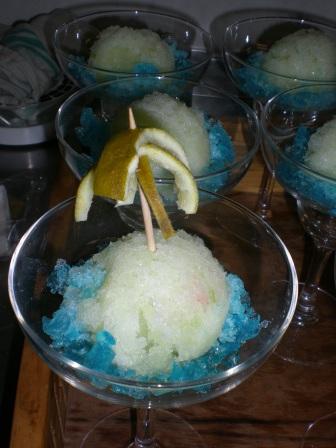 Treasure Island Sorbet – homemade fresh lime sorbet with a palm tree made from lime rind and sea made from blue food coloring ice blended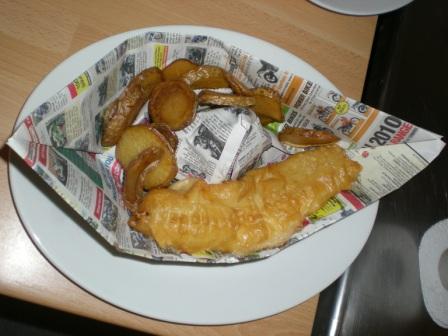 Battered Grenadiers with pieces of eight – Origami newspaper boats with South Georgian Ale Battered Grenadier and round chips. Ali came and helped me out battering the Grenadiers so I could sit down and enjoy the meal rather than being in the kitchen the whole time 🙂
Barrels of meat with pieces of eight – I forgot to get a picture of this. It was Guiness stew with phyllo pastry crust and round chips
Hard Tack Sea Biscuits with Cheese – Nothing special just cheese board with biscuits!
Birthday Cake – I will post some pictures tomorrow as I didn't get a chance to take any pictures of it complete!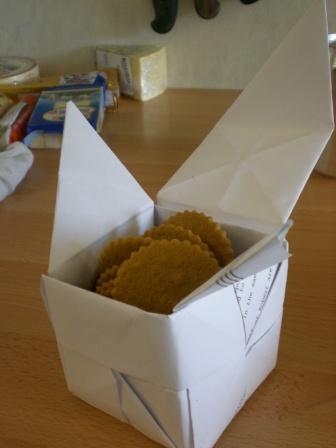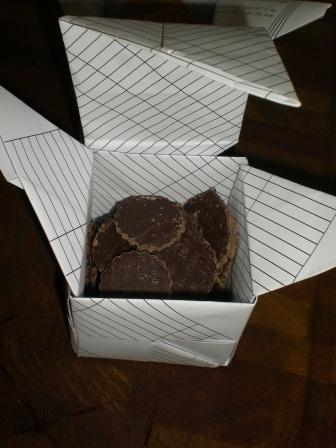 Coffee with mints and ginger biscuits – After eight mints cut into circles and store bought ginger snaps served in origami boxes. I tried to make a proper treasure chest but it was beyond my skill level so I went for the cubes instead!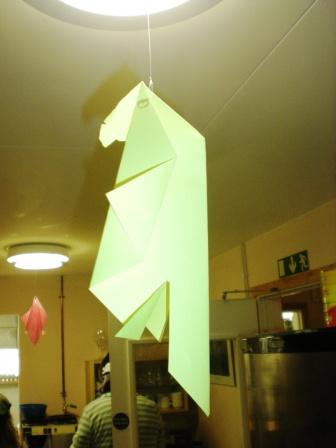 Hanging from each light I made Origami parrots
The rest of the dinner table settings I unfortunately didn't take pictures of but I think Ali took some so will post what he has. Also everyone made a huge effort with their fancy dress so I will post that tomorrow.
I looked up pirate cocktails and made the following cocktail menu for Ali and Matt to mix up in the bar.
Fuzzy PiratePeach Schnapps, Rum and Orange
White PirateRum, Kahlua and Cream
GrogWarm Rum, spices, lime and sugar
Captains BloodRum, lime and angostura bitter
Planters PunchRum, lemon, orange and syrup
Pirate CocktailRum, sweet vermouth and Angostura bitters
2 Responses to "Pirate night"
Such fun AP, do you have piping ends to do the icing on the cake ? Love yer Mum p.s. remember the class I went to , all the different cakes I made for your bidays, wish I had taken pictures

Yes lots of tips. Can you not see all the star shaped icing covering the cake! Took me hours. Yes I do remember all the lovely birthday cakes!