A busy week so far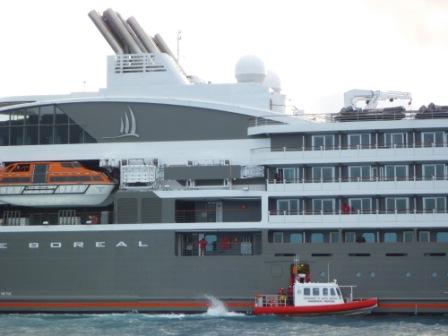 The week has only just started but it has been very busy. Yesterday we took the government officer Kieron an his wife to board a new cruise ship at Stromness bay. It was meant to show up at 6pm but didn't hove into site until 7:30pm. This meant that Pipit (Matt Holmes) had to do a transfer while it was still moving through the pilot door on the side. Getting Prion's anchor up in the bay was interesting with 50m of warp/chain out.
Alastair and I pulled with all our might and found that we were hoisting about 200kg of kelp up with the anchor which we then cut free. We then put the pedal to the metal to get back to base before sunset at 8:30pm. For after dark operations we have to have three crew as one person is in charge of sweeping the area in front of the jet boat with the search light looking for ice. We had some small bergy bits at the enterance to the bay and it was a little windy with a light chop. The launches are built to deal with the conditions – so with the heaters on we were toasty and warm but it was still great to get back to base and quickly change for a BBQ aboard the cruise ship Polar Star.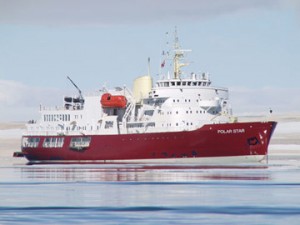 The BBQ was tasty with some steak, pork and big prawns.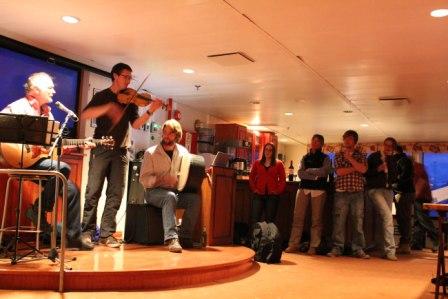 Afterwards Rob, Ali and Jon played their instruments with the onboard guitar player and everyone enjoyed a late night of dancing.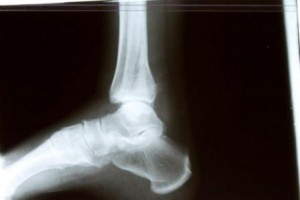 This morning we sorted out the jet boats after the late evening trip including refuelling and I was about to take off to the gym after a very late lunch when I got the call to go to the wharf and help bring a patient up to the surgery. Unfortunately a lady fell while walking on the tussock grass turning her ankle over. The Dr. asked if we could do some xrays. So Sam the base Dr and I did the xrays while I used my very bad GCSE French to try and talk to the patient as neither her nor her husband spoke English. After the xrays showed a broken bone we made up a back board out of plaster of paris to support her ankle while the swelling went down. This all took a while as we had to do 3 xrays and develop them one at a time which takes around 10 minutes for each one in the dark room. Then we put her back in the wheel chair and took her back to the ship on the zodiacs they provided. I did offer to take her out on the jet boat but they said they could take her on the zodiac without a problem.
The captain was very appreciative to Sam so he invited us along to see the ship and have cocktails. It was a fancy ship and we hadn't changed out of our work cloths which were also covered in plaster of paris – oh well 🙂 So that has been my busy monday and tuesday so far. We shall see what the rest of the week has in store for us on base.
Oh finally the weather broke bringing lots of rain this afternoon and very low cloud cover.
4 Responses to "A busy week so far"
This is a great site & fills in loads of detail, so thanks muchly!

It is really great to have all those details filled in that are "day to day" for you, but us guys at home wonder about & love to know.

I saw the wheelchair at the bottom of the steps & did wonder about it, so you have answered that one too!

many thanks

Glad you are enjoying it! Alastair was out seal wrangling yesterday and they apparently caught one but it was too wet to get the transmitter to stick.

Mark Wilson December 9th, 2010 at 7:26 am

I think the lady might have wished she did not go back on board if this is the same ship, which I think it is………………….
http://www.telegraph.co.uk/news/worldnews/antarctica/8190410/Antarctic-cruise-ship-tossed-by-massive-waves.html

Nope not that ship but it doesn't sound fun!