Bayard
Last week we went down the north coast to take one of the government officers and Kelvin (spraying an invasive grass species) on a jet boat and a RIB.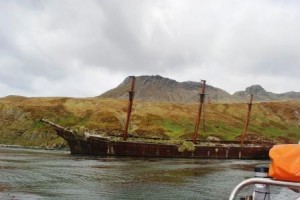 This is a picture of the Bayard a wreck in Ocean Harbour a three masted, 1028 ton, 67 m (220 ft) long, iron hulled sailing ship. She was built in 1864 by T. Vernon and Son, Liverpool for the Hall Line . In 1868 she was transferred to Sun Shipping Company and in 1881 sold to Foley and Company.On 20 August 1883 she arrived in Suva, Fiji carrying 494 Indian indentured labourers from Calcutta. She had previously carried indentured labourers to the West Indies.
In 6 May 1885, Bayard hit an iceberg, 55 miles South of Cape Race while on a voyage from Marseilles to St. Pierre. The ship lost her stern, bowsprit, jib boom, foremast, topgallantmast and yard, but reached her destination on 23 May, leaking badly.
She was moored at the coaling ship at Ocean Harbour but during a severe gale in June 1911, she blew off her mooring and ran aground. They tried to no avail to pull her off the rocks. There are now about 80 breeding pairs of blue eyed shags nesting on the wreck.
The bay is a deeply indented and the mountains on each side come right to the water. During a survey of the island in 1951-52, the South Georgia Survey reported that whalers and sealers called the cove Ocean Harbour, derived from the Ocean Whaling Co. which had a active whaling station there between 1909 and 1920.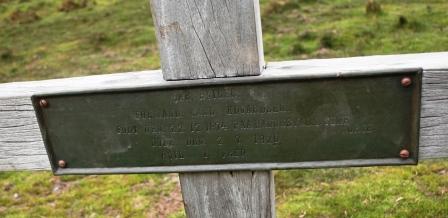 The cemetry at Ocean Harbour has only a few crosses left. The marker on the oldest known grave of the island – that of Frank Cabrail (1820) of the sealer Francis Allen no longer exists. There was one cross with a relatively new looking plaque on it from 1920 (see picture).
One Response to "Bayard"
Mum and Dad November 25th, 2010 at 8:49 am

Must make an effort to find your grandfathers now you have an interest in grave stones!!! All so very interesting and fun. The plane wreck reminds me of the one we saw on Barra and also the many on Guam . xx Mum and Dad