Compass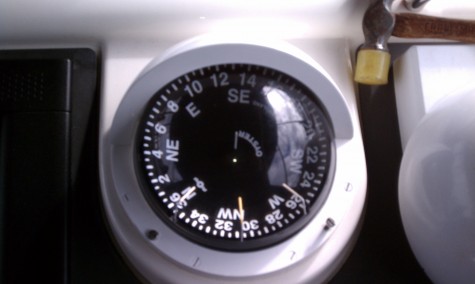 What's wrong with this picture? Think about how you would steer. The way to fix it was to remove the compass from the console turn it upside down and shake it till the card flips the right way then put it back in. Much easier to steer now!
2 Responses to "Compass"
Paul Cunningham December 10th, 2012 at 2:49 am

Amazing that these magnetic steering compasses must have been fitted this way when the vessel was new, and only now 8 years later when a MCA approved compass adjuster comes onboard at the request of the new (and probably much more experienced than the previous) captain. Well done Ashley, slightly concerning to see the hammer in this shot, but I guess it is a soft face, he he.

bosun's pursuader in the form of a soft face is needed every now and again!