Failed attempt number 2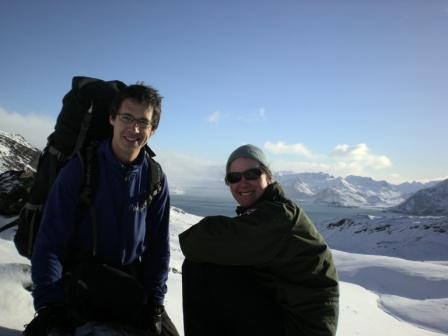 (us at the furthest extent with Cumberland Bay West behind us and Harpon!)
Rob and I got up early and headed off up the hill with 30kg rucksacks headed for Harpon only to be recalled! So yet again I made it as far as Echo Pass and not to Harpon. Oh well! Instead we get to eat at Carse House and enjoy what looks like a very tasty feast of pies and peas.
The reason for the recall was that a fishing vessel Antarctic Bay has had a breakdown and is being towed by another fishing vessel Betanzos towards King Edward Point. We are not sure if we can help with the repairs but if we can they will go back to fishing. If not they will have to be towed almost 1000 miles at 4 knots to the Falklands. They are still 6 hours out and likely to get in at midnight so will probably anchor off Hope Point.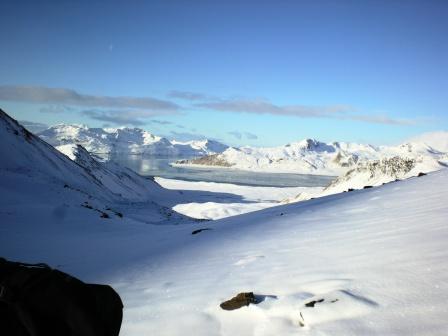 The walk to our sun filled lunch area was delightful if not a little chilly -4 today and sometimes hard work. The snow was slabby in places and both Rob and I both found sheet ice at one point under 5 inches of snow. Both of us fell several times which is not too much fun with a very large rucksack on but were unhurt. I don't think I will ever be able to walk comfortably with Rob as he is a giraffe and for every one step he takes I have to do two so he obviously moves ahead quite quickly despite my legs moving at the same rate as his. Several times I was heard to exclaim "how is it possible you went from there to there in one step!"
So after unpacking my bag I had a hot chocolate and went to the bike to watch History of Britain and spin out 20km before dinner.