More Miles (on a plane)
It is 6am on Monday morning and I am on the airporter headed for SFO and onto LAX for a week on the Saga 409 project then back to Florida for a week. It is a beautiful sunrise as we wind our way up the incline out of Sausalito on 101 we are above the tendril of fog that has extended into Richardson bay. The peak of Angel Island and Belvedere Island peak out from the fog above is a bright blue sky with beautiful orange glow on the con trail from a plane it is straight as an arrow so there is not much wind up high. There are a few cirrus and cirrus stratos clouds. This is why I live here it is such a beautiful place. Less than a mile later we emerge from the tunnel towards the Golden Gate and we are in the fog bank, the sky is gray and you can't see to the next tower of the bridge. San Francisco really is interesting meteorologically.
 
I was upset yesterday as I worked hard all week trying to get all my work done so I could spend time with my nephew at the yacht club for Opening Day on the bay. I stayed up late working till midnight and back up at 6am but it didn't pan out for me. Indicative of my life at the moment – I need to stop working weekends there will be another year but I don't like missing out on a single moment with Henry. I got to the yacht club as my brother was leaving Henry ran over to me proudly holding a whole cookie of his own in a cute summer outfit with little flip flops on – big hugs for Aunty Ashley. So instead of playing with him on the boats on the beach I was up a rig with a hammer swearing under my breath about shitty Catalina 22's! He is such a cute little guy with white blond hair – I feel sorry for all hearts he is going to break as he grows up.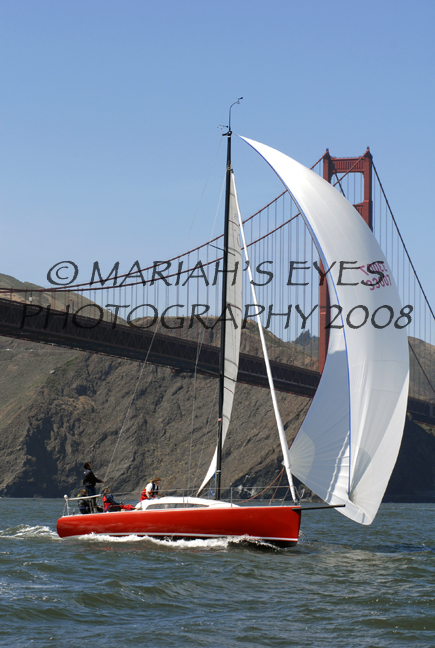 My short stay at home wasn't all about work though. On Friday night I got to go racing on Flashman which was lots of fun we got fouled at the start (port starboard) but our request for them to do their turns was ignored and it's a beer can so poor form to throw the flag. On Saturday we took the Quest 33 out to Duxbury off Bolinas unfortunately the wind was very light so we didn't get a good surf back in. We were late to the start as we needed to change out the main and a few other items needed to get done. Slyvainn from UK Halsey Sails was out with us though so with his awesome tactics and trimming we caught up and blew through the fleet ending up finishing ahead of boats up to 10 feet longer than us on the water. We ended up 2nd in class with the Express 37 getting us by less than a minute – would have been first if we had been there on time 🙂 On Friday I rerigged the vang to come back on both sides of the cockpit to a spinlock PXR swivel cleat with enough tail that the main trimmer can blow it during a broach. This made a difference on the spinnaker reach we had allowing everyone to stay back behind the main hatch and keeping the bow out of the water. Next change is to increase the purchase on it.
 
On Saturday night I went to a beach bonfire at Mile Rock Beach. I had never been down there before it is a short walk from the Legion of Honor in the city. We all marveled at how great San Francisco is that you can be on a beautiful beach literally 5 minutes from the city center. It was a calm evening and we watched the remainder of the Duxship and Singlehanded Farolonnes fleet sail back into the gate. The sunset was very spectacular and the smores we made at the satellite bonfire (a small one further down the beach) were very tasty. I haven't had smores in years. A women I was talking to who had worked at the Monterey Aquarium had some balls that looked like monkeys fists which she drenched in white spirits and set fire. She spun them round so fast it looked like a circle of flame  – lots of skill involved in that.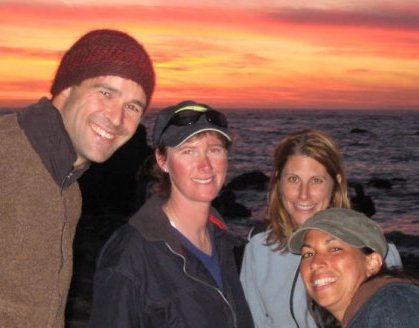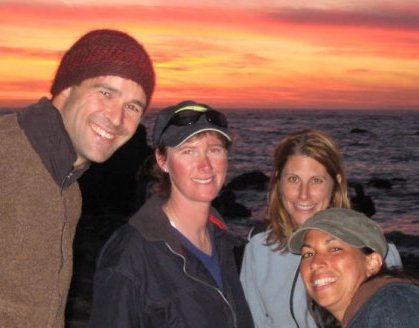 Looking forward to being back home in two weeks time.