The barrel of a gun..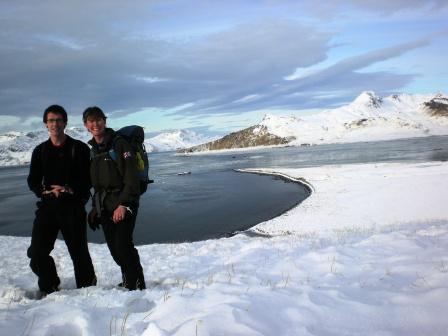 As the maintenance was under control and there was no krill boating today Rob and I took 2 hours extra for lunch and went for a walk along Brown Mountain plateau and back along the beach. As per usual I ran along like a naughty child while Rob loped into the distance – apparently his sister complains as much as I do about his stride. This is a picture of us with the Greene Peninsula across the Morraine fjord and Zenker Ridge.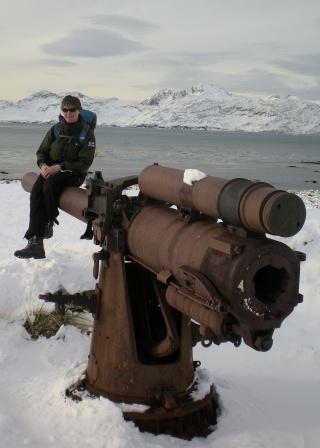 We dropped down to the beach and had a look at what remains of the military presence on the Thatcher. This gun is set up next to an observation hut which is falling apart.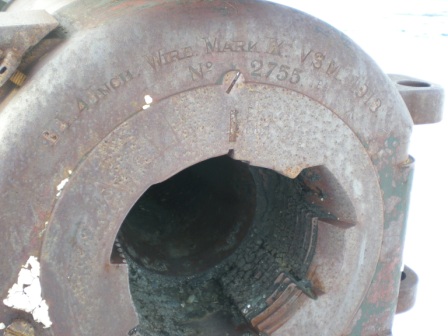 The gun up close – 4.5 inch, 1918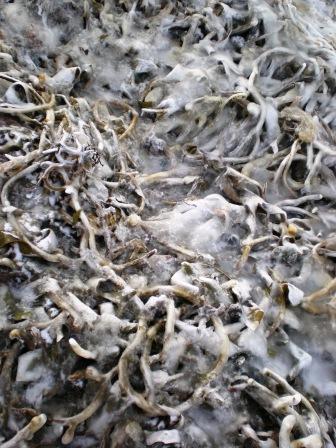 Walking back along the beach the kelp was a frozen mass and we dodge a few male furries but like last week at Maiviken they are not very brave yet and two of them quickly took to the sea.
It became quite warm when we got back to base and as the sun went down the snow was avalanching off the roof tomorrow will be slushy I suspect.
Edit 7/16 – I was incorrect it wasn't military. I found some more information about the gun in a book in our library. During WWII the Germans operated in the South Atlantic and Southern Ocean in the spring of 1941 they captured some of the Norwegian pelagic whaling fleet. As there were concerns about enemy action a gun was installed in the two stations still operating – Grytviken and Leith. The gun at KEP was originally installed up at Hope Point and then was moved around to Susa Point.
One Response to "The barrel of a gun.."
Mum and Dad July 15th, 2011 at 11:53 am

Great pics of you, not so sure about the guns! x mum